Avoiding Exam Stress
April 30, 2018
Test season is in full swing and children across the UK may be experiencing all of the nerves, worry and stress that can come with sitting exams. We've got some useful advice on how to support them through it!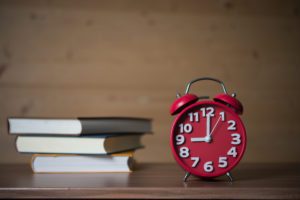 Celebrate the effort
One of the main worries children can have is that they will let you down. This can become a serious distraction for children, which can have a negative impact on their performance.
A good way of avoiding this kind of worry is by focusing on the effort and practise that your child is doing. Celebrate the successes they achieve during their focused revision and remind them if they can't do something – "they just can't do it yet". Let them know how proud you are of the progress they are making. This encourages children to work as hard as they can in preparation, but doesn't overwhelm them with talk of the end results. Exams are a chance for children to show off how much they know, and often talking about it in that way can ease some of the pressure they may be feeling.
Avoid clashing!
Often, with a child under pressure and a parent wanting the absolute best for them, tempers can flare and arguments can happen! If you feel your child isn't doing enough, it's often because they feel lost and don't know where to start. Help them to break everything into small tasks so they can start seeing small successes and boost confidence.
Avoid using accusatory, overly-critical language like, "If you don't work harder, you are going to fail". Try approaching with questions to encourage your child to see the problem by themselves. "How is your revision going?", "What are your tricky spots?", "If you have 30 minutes to look at something today what do you think would make the most difference?" – these are all good questions to ask.
Be prepared
Inevitably, there will be children disappointed with their exam results and it's important for you to be supportive. Remind them that there are always options – whether your child gets great results or doesn't do quite as well as they hoped, there are paths that can be taken either way.
Sit with your child and discuss these options together. It could involve a different school/college/university, or it could be looking into the possibility of re-takes. Research is important at this stage, but remember there are always options!
Take time off!
At times, if tension is building or your child is starting to feel the strain a little too much, the best thing to do can be to take a step away from the exam preparation for a while! Find something relaxing and enjoyable to do and completely forget about exam preparation. However, if there is a timetable in place make sure that it is still possible to cover everything in time.
Discover more interesting posts from our blog
---
Marvellous maths: our members favourite subject
March 14, 2018
When we spoke to our members to find out what they thought about maths, we discovered that it was their favourite subject – followed by PE (20%) and art (16%)!...
Read this post
Britain baffled by education terms in school report
May 31, 2019
Half of Britain's parents admit that they can't understand their child's school report, our study reveals. But don't worry – help is available! We spoke...
Read this post