Festive focus
November 22, 2018
Do you feel that your child has less focus and energy over the winter? You're not alone! We collated parents' feedback in this infographic, to find out how we can help fearless learners this festive period…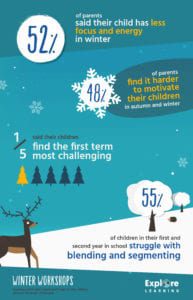 We often hear from our members that they find it difficult to motivate their child with their learning in the winter months; so we weren't surprised when 48% of the 1,000 parents we surveyed agreed! Furthermore, 52% said their child has less focus and energy thanks to the dark evenings and shorter days.
At Explore Learning, we want every child to love learning all year round! That's why we're running a series of fun and engaging workshops on 29th December for families who are not yet members of Explore, to help keep them entertained and their education topped up over the festive period.
But our research didn't stop there! We've identified key topics that children find challenging, based on data for over 48,000 of our members:
55% 

of children struggle with blending and segmenting in their first two years of school

Time is the 2nd biggest area of difficulty in maths for primary school children
56% of children in primary school struggle with comprehension?
If you recognise any of these areas of difficulty, then our free winter workshops are for you! We're covering phonics, telling the time and comprehension to help children be fearless with tackling maths and English and go back to school in January feeling confident.
Did you know that 94% of children think maths is useful for later life? We know how vital maths is to every day activities, yet for many children this subject can get a little more complicated as soon as it starts using lots of words. That's why we're also offering a workshop to help children tackle worded problems to become fearless problems solvers.
Our workshops are completely free, but spaces are limited – book online or give us a call!
Discover more interesting posts from our blog
---
World Dyslexia Awareness Day
October 04, 2018
"We're in this together": We spoke to our member Nikki Golestanian about the positives and challenges parents can experience supporting a child with...
Read this post
Stefan Gates: Why I love maths
October 25, 2016
Hello, you beautiful people! My name is Stefan Gates and I'm a TV presenter and author working in STEM subjects (Science, Technology, Engineering and Maths). I'm so...
Read this post