Summer learning sorted
June 06, 2019
With the summer holidays fast approaching, it can be challenging to keep your child's brain engaged while they are off school. We're here to help!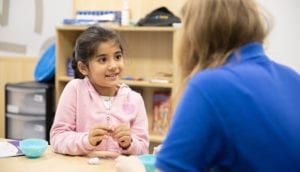 We recently asked 2,000 parents what was important for their child's learning over the summer months. Parents stated that the most important subjects to keep their children engaged with were reading, writing and maths. Maths was the subject that parents said that they would struggle to teach most over the summer.
While it may seem challenging at times, there are many easy and accessible ways to keep your child's brain engaged with learning over the summer. Charlotte Gater, Head of Curriculum at Explore Learning, states: "It's very important for parents to actively encourage their children to keep learning to avoid any negative impact on their return to school in September. However, it doesn't need to lead to arguments; learning can be done in a fun, effective way through games, technology, extra tuition and interaction with their friends and the outside world – which all combine to keep their educational engagement ticking along over the break."
Why not try one of these fun and easy ways to sneak learning into your summer break?
Travel in style. On the way to a favourite day out? This can be an exciting opportunity to discover how to use a map to plan a route, review timetables and cost up the tickets.
Cook together. If you have any budding chefs or bakers in your house, why not get out a favourite recipe for some treats and spend an afternoon weighing, measuring and timing your bakes?
Enjoy a lazy afternoon. Watching films can be a chance to develop important skills. Encourage your child to practise their comprehension skills and challenge their imagination by discussing alternative endings, why the film was made, the motives of main characters etc.
Discover audio books. Although children aren't directly decoding words by reading the text themselves, audiobooks can make reluctant readers gain confidence in comprehending stories whilst developing their memory, concentration and imagination.
At Explore Learning, we are in full swing preparing for the summer holidays with plenty of activities in place to engage children with their learning. As well as attending your normal sessions, it might be nice to try something different! You can use one of your sessions to attend one of our fun and engaging maths or literacy workshops. You could also choose to attend one of our specialist course summer projects running over the holidays. Please speak to a manager about your centre's programme of events over the summer.
On top of this, we have a very exciting activity for members to complete either in or out of the centre. We want our members to create their own newspaper called 'The Explorer'! The newspapers will have a host of activities including being an editor, designing a comic strip and getting stuck into a debate on screen time.
Keep your eyes peeled for 'The Explorer' newspaper in your centre this summer! Ask your centre for more details.
Discover more interesting posts from our blog
---
Writing competition winner announced!
June 22, 2016
Congratulations to 11-year-old Gracie Harding from Westgate School in Winchester, who has been named the winner of this year's National Young Writers Awards!...
Read this post
One girl's mission to help save the planet
June 28, 2018
One of our wonderful members, Charlotte, has been on a mission to raise awareness of the benefits of electric cars! Find out how she's been doing this…...
Read this post