The Sunday Times Best Companies to work for 2014
April 01, 2014
We are delighted to have once again been named as one of the best companies to work for in the UK by The Sunday Times.  Explore Learning  was named as the 47th Best Place to work in the UK, and was highly praised for providing opportunities for personal growth, and being a fun and vibrant place to work.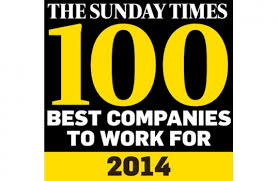 The Sunday Times article stated the following:
"While children are brushing up on the three Rs, Explore Learning's 1,690 employees are getting an education of their own, thanks to the wide range of opportunities for self-development that the company provides. The staff, all of whom have their own personal development plans, find the experience they gain is of great value for their future and beneficial to their personal growth; they give positive scores of 88% and 87% for these aspects, ranking the company second and third respectively."
"Staff, who are mainly young graduates, benefit from coaching, job-shadowing and an internal management development programme that includes teaching, marketing, sales and financial management, all of which they find of great personal benefit (78%).  Employees tend to have fun with their teammates and get a buzz from working with them (86% and 76% scores respectively), while the different departments work well together (66%, placing the firm eighth).   As part of Explore Learning's appraisal system, employees evaluate their managers and give feedback on their training and management style. The reports tend to be good: the bosses are excellent role models (73%) who motivate staff  to give their best every day (72%)."
At Explore, we believe that having happy and motivated tutors means that our members are happy and motivated too!  If you are interested in a career at Explore Learning, visit www.explorelearning.co.uk/careers for more information.
Discover more interesting posts from our blog
---
Back to school? No worries!
August 08, 2019
Heading back into the school routine can feel overwhelming for both parents and children. Fear not! Here are some tips to ease you and your child back into the routine of...
Read this post
Top 10 stories announced!
June 03, 2019
We're down to the top 10 authors in our writing competition! One of them will go on to be crowned the Explore Learning Writer of the Year 2019 – who will it be?...
Read this post