What's the difference between a teacher and a tutor?
June 22, 2021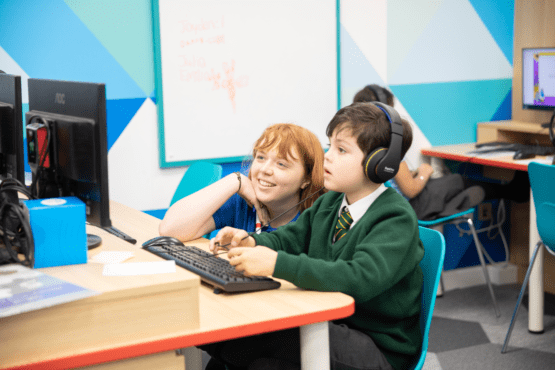 Teaching and tutoring involve a lot more differences than you might think. While teachers have to manage large class sizes of up to 30 students, a tutor's job is to support student's learning in a more personalised and flexible way.
Let's take a closer look at the differences between a teacher and a tutor to find out if tutoring could help your child reach their full potential!
Roles and responsibilities of teachers and tutors
While both teachers and private tutors aim to facilitate, encourage and aid learning, there are some clear differences in their roles and responsibilities.
What's the role of a teacher?
It's a teacher's job to…
Lead a large class of students (sometimes 30+!)
Deliver the national curriculum
Use teaching methods and strategies that work for most students
Work within school hours
Manage behaviour in the classroom
Deliver learning at a pace suitable for the majority of students
What's the role of a tutor?
In comparison, it's a tutor's job to…
Tutor one-to-one or in smaller groups
Build on what's taught in the classroom in line with the national curriculum
Tailor sessions, teaching techniques and materials to individual learners
Fill in gaps in knowledge or learning techniques
Help with specific subjects, projects or skills
Offer more flexible learning schedules
Encourage independent thinking and learning
And what's the difference?
The main differences between the two roles are;
The number of students taught in a session – tutors work with much smaller groups
Qualifications – tutors are not required to have formal teaching qualifications
Individual learning – tutors are focused on individual goals rather than the needs of an entire class
Flexibility – tutors are able to offer more flexible learning hours and materials
Feedback and attention – tutors are more able to provide detailed, immediate feedback and give more attention to individual students
"Tutoring children weekly is a highly rewarding experience. I can meet the individual needs of each student as they progress through our highly comprehensive programme, whilst using my curriculum knowledge and experience to enhance the lessons. I love to support fearless learning, help children to learn from their mistakes and celebrate successes with them."
Bryony, Explore Learning Tutor
Are tutors better than teachers?
Now let's get this clear. We're not saying that one is better than the other! Both teachers and tutors play important roles in our children's learning and the best results often come when they work together.
Classroom teachers have more constraints in terms of class sizes and time pressures, so understandably, they can't always give as much attention to some students as they might like. That's why tutoring can help students who are either struggling to keep up or whizzing ahead to fulfil their potential.
Tutors simply have more time and resources on their hands to cater to different learning styles and goals.
When you might need a tutor
Every child is different. That's why it's important to remember that different teaching styles and situations can be key to successful learning.
Here are some instances where it could pay to find the right tutoring for your child.
Supporting children with special educational needs
Children with SEND may have very different needs to the rest of their classmates. Whether it's adapted lesson plans or finding the right learning style for reading and writing – an expert tutor can help them improve their concentration, progress, confidence and passion for learning.
Find out from Sam and his mum how we support learning with autism.
Nurturing gifted learners
If your child is gifted, some extra English and maths tutoring may be just what they need to expand their horizons and inspire them to excel in their learning journey.
This could include giving them the confidence to succeed in their 11 Plus exam or encouraging them to take part in national competitions!
Boosting their confidence
Sometimes, children need a little extra attention and encouragement to learn at their best. Confidence is key when it comes to mastering English and maths skills in the classroom.
Working in smaller groups or one-to-one can make some children feel safer to stretch themselves and get curious about new things. At Explore Learning, our expert tutors are passionate about inspiring fearless learners!
Is your child nervous about the transition to secondary school? Our Succeed in Secondary tuition course could give them the tools to thrive.
A tailored approach to learning
A one-size-fits-all approach doesn't work for every learner. That is why we offer flexible tuition memberships to suit you. Choose between:
In-centre group tuition
Or a mixture of both!
Book a free tuition trial to find out which combination would work best for you and your family.
Discover more interesting posts from our blog
---
Summer photo competition winner announced!
September 12, 2018
We asked our members to share the ways they were seizing the summer with a fun photo competition, and we have a winner! The summer holidays are a time for relaxation and...
Read this post
Tutor of the Year 2018!
April 11, 2018
After months of votes being cast by our members, we spent March travelling up and down the UK to announce our 2018 Tutor of the Year Award winners! Each winner was...
Read this post