Explore Learning founder on Sky News
February 14, 2020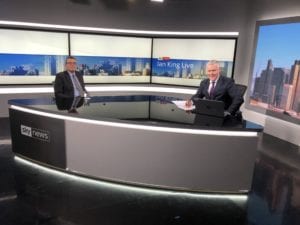 Explore Learning CEO and founder, Bill Mills, was recently invited to the CNBC Europe Studios in London to discuss the boom in tuition and how this has been reflected across Explore Learning centres.
Bill was interviewed by well-known and respected broadcaster, Ian King, and discussed the increasing popularity of extra tuition for families up and down the UK.
Ian King has worked as a print and broadcast journalist for more than 25 years. During this time, he has interviewed two-thirds of The Financial Times Stock Exchange 100 Index chief executives and several prime ministers from around the world – putting Bill in very good company.
The interview was aired during the consumer slot, highlighting the increased interest in accessible extra tuition for all families. Bill explained how Explore Learning works closely with parents and teachers to provide children with a platform of skills and set of attitudes that aids and reinforces what they are learning in the classroom.
Their chat was initially inspired by research from Explore Learning that revealed many children are now better at maths than their parents. Intrigued? Watch the full interview.
Discover more interesting posts from our blog
---
Q&A with paper artist Paperboyo
October 31, 2017
In celebration of his new book launch Around the World in Cut-Outs, we caught up with Rich McCor, now better known as 'Paperboyo'. He has become an Instagram...
Read this post
One girl's mission to help save the planet
June 28, 2018
One of our wonderful members, Charlotte, has been on a mission to raise awareness of the benefits of electric cars! Find out how she's been doing this…...
Read this post