Getting to know: Bobby Seagull
October 30, 2018
Maths has taken Bobby Seagull on an amazing journey, from his love of the subject at school to TV stardom and even a new book! Get to know our maths ambassador with his guest blog…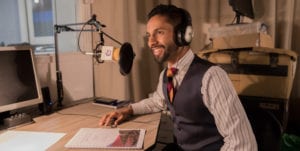 As someone that loved astronomy and the stars, I wanted to be an astronaut. The idea of exploring the solar system really appealed to me, especially as my primary school had all our classes named after the planets. Also, when studying the stars, being confident with understanding the scale of large numbers helps!
While Stephen Hawking is sadly not with us, I admired this man growing up. As I loved astronomy as a child, I appreciated that he helped to popularise particular fields of the sciences to the wider public. And more so, he overcame significant physical challenges to demonstrate what humans can achieve if we believe.
I think it's sad that many adults have had negative experiences of maths at school and this has damaged their perception of the subject. However, these adults can repair their relationship with maths. More importantly, they should not talk negatively about maths to their children. I often see this at school parents' evenings and know that this negative attitude can be contagious. Positive attitudes from parents, even those who struggled with maths, can help foster good vibes for maths with their kids.
Maths has been an important part of my life and has helped me make decisions, whether it is in the gym, in cooking or even my search for love! I wanted to share my positive mathematical stories with the wider public. My new book, 'The Life-Changing Magic of Numbers' can be read by older primary school students with their teachers, students at Sixth Form, busy working professionals or even those retired! I tried to make it as accessible as possible so everyone can get a sense of my enthusiasm for maths.
Filming the programme 'Monkman and Seagull's Genius Guide to Britain' with such a great friend like Eric (and University Challenge team mate) was a pleasure and an honour. I learnt so much on the journey, such as fine-tuning my understanding of how centrifugal force impacts us on a fair ground ride! I also appreciate that there is much more to a TV show than the presenters. It wouldn't happen without the incredible teamwork of the director, producer, film crew and production company – they also became my friends by the end of it.
I have had some unusual mail from Australia requesting my support for some sort of artificial intelligence technology project, but the best piece of fan mail was when I received a lovely pork pie from a friendly fan in the UK. It was kept in the college fridges at Emmanuel Cambridge till I could collect it and it was delicious!
I have always enjoyed communicating with people, but my new platform means I can share my love of maths and learning with a wider audience.
Make maths an important part of your child's life and see where the journey takes them! Find out how we can inspire a love of the subject right from the start.
Discover more interesting posts from our blog
---
Our members seized the summer in style!
September 15, 2017
We held a photo competition over the holidays for our members to show us how they were seizing the summer, and they certainly did it in style! The summer holidays are a...
Read this post
Reading for the love of it!
April 30, 2018
Reading is not just something that children should do in school, it needs to be an everyday part of our lives and something we choose to do at all ages! Here's why…...
Read this post