Happy 10th Birthday, Edinburgh Blackhall!
February 07, 2014
Lise McCaffery, Curriculum Development Manager at Explore Learning
Next month, the Explore Learning centre in Blackhall, Edinburgh will celebrate its 10th birthday.  I remember going for my interview. I had graduated from Glasgow University with an MA (Hons) in French, Spanish and Portuguese. Over the course of my studies I had been a teaching assistant at a secondary school in Barcelona for a year and also supported schools in disadvantaged areas of Glasgow in promoting further and higher education (GOALS) and loved it, so I knew I wanted to be involved in education.
When I saw the Explore Learning position advertised, it sounded perfect: a chance to work with children and gain management experience! But, wait, a computer-based learning facility that was based in a Sainsbury's supermarket? My mind couldn't picture it. Wouldn't it be a dank place full of grey computers? Wouldn't the children need to be dragged to do extra learning after school and at the weekend? With a sense of curiosity, I got the train to Edinburgh to find out…  I couldn't believe my eyes when I arrived! Splashes of colours, kids with bright, beaming smiles, tutors high 5ing the children, parents chatting away to the staff. Instantly I knew this is the kind of place I want to work. I was based at the Blackhall centre for 5 wonderful years and another 5 in the Curriculum team in our Head Office. 10 years has flown by – happy birthday, Explore Learning, Blackhall!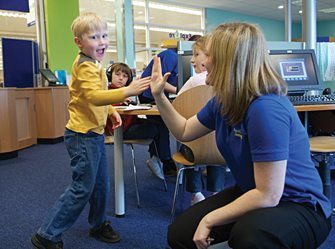 Discover more interesting posts from our blog
---
Are you as smart as a 12 year old?
August 18, 2017
Our recent maths and English quiz has revealed that UK adults are struggling to answer questions designed for children from reception up to year 8… 1 in 3...
Read this post
The 'three-month dip'
August 10, 2018
Have you been getting ready to go to an Explore session and your child suddenly says 'Do I have to go today?' Here's what might be going on… What is the...
Read this post