Happy 10th Birthday, Edinburgh Blackhall!
February 07, 2014
Lise McCaffery, Curriculum Development Manager at Explore Learning
Next month, the Explore Learning centre in Blackhall, Edinburgh will celebrate its 10th birthday.  I remember going for my interview. I had graduated from Glasgow University with an MA (Hons) in French, Spanish and Portuguese. Over the course of my studies I had been a teaching assistant at a secondary school in Barcelona for a year and also supported schools in disadvantaged areas of Glasgow in promoting further and higher education (GOALS) and loved it, so I knew I wanted to be involved in education.
When I saw the Explore Learning position advertised, it sounded perfect: a chance to work with children and gain management experience! But, wait, a computer-based learning facility that was based in a Sainsbury's supermarket? My mind couldn't picture it. Wouldn't it be a dank place full of grey computers? Wouldn't the children need to be dragged to do extra learning after school and at the weekend? With a sense of curiosity, I got the train to Edinburgh to find out…  I couldn't believe my eyes when I arrived! Splashes of colours, kids with bright, beaming smiles, tutors high 5ing the children, parents chatting away to the staff. Instantly I knew this is the kind of place I want to work. I was based at the Blackhall centre for 5 wonderful years and another 5 in the Curriculum team in our Head Office. 10 years has flown by – happy birthday, Explore Learning, Blackhall!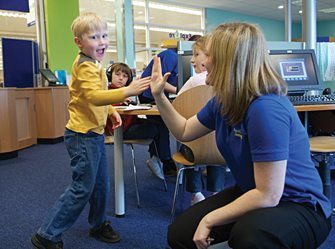 Discover more interesting posts from our blog
---
What are 11 Plus classes like?
January 11, 2018
Is your child interested in going to grammar or private school? We spoke to our members about their experience of preparing for the 11 Plus to help any parents...
Read this post
Why your child should read to your dog
March 07, 2014
Guest Blog for Explorelearning.co.uk from Fiona Firth, Head Nutritionist at Burns Pet Nutrition Burns Pet Nutrition is a proud sponsor of organisation that helps young...
Read this post