It's time to Seize the Summer!
July 03, 2018
75% of parents say their children's academic abilities slip over the summer. We're here to not only combat the 'summer slide', but to help children seize the summer and beyond!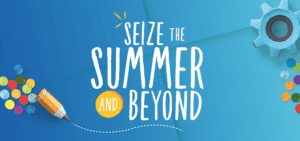 As the excitement draws in for the upcoming summer and families look forward to holidays and a time for relaxation, some parents worry about the effects this time off will have on their child's academic progress.
The 'summer slide,' as it's sometimes referred to, describes the loss in learning that children experience over the summer holidays. Of course, the summer break is a valuable time for play, relaxation and the recharging of batteries but it can also be a fantastic opportunity to keep brains active with academic activities and give children the best possible opportunity to get ahead for the next school year.
We spoke to Miss Evans, year 6 teacher, who stated, "Teachers often find that children begin the new school year having forgotten key skills. It is important that children have opportunities over the summer break to continue to develop their abilities. This can then ease the transition in to a new year group. With each year the curriculum has new and different demands, therefore it is essential that we ensure children are continuing to build on their foundations in order to give them the best start to the academic year." Having taught children in year 5 and seen the same group return to year 6 in September, she could see first hand the regression of learning over the six-week summer holiday.
Scientific research shows that our brain acts like a muscle – you either use it or lose it! Educational activities could be seen as similar to a sport. No matter how hard you work on your chosen sport, if you do nothing for six weeks, it will of course take time to get back to your previous standard. The learning process is the same; keeping up the momentum and engaging the brain during the summer break is essential to ensuring that children are in the best position when they return to school in September.
September can be a frustrating time for children; having learnt a wealth of new concepts in the previous school year, many return to school after the summer break to find that a lot has been forgotten and they feel they must begin to learn these concepts again.
With our exciting Seize the Summer activities, your family will find it easy to combine learning with fun over the holidays! Download our weekly resources and get involved.
Discover more interesting posts from our blog
---
Let's make maths fun!
September 06, 2016
David Bullen is an accountant, the Managing Director of Sum Fun Games Limited and creator of the new and exciting educational maths game called Sum Fun. Come on…...
Read this post
Everyday maths
October 18, 2016
You've probably never stopped to think about it, but maths helps us with so many everyday tasks! Charlotte Gater, Head of Curriculum at Explore Learning, explains...
Read this post