Just right
October 05, 2018
Leo's confidence has grown and he's now happier at school. He thinks Explore Learning is 'just right' for him and wanted to tell you why!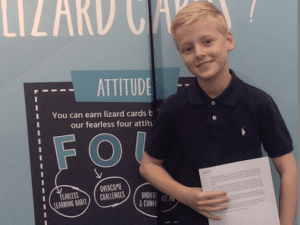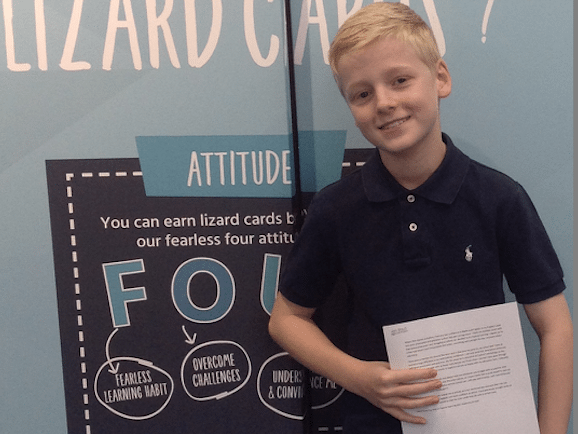 "When I first started at Explore in Leicester I had very low confidence in maths and English. In my English I used very poor punctuation and grammar such as 'lets eat a oringe mum'. There are multiple issues with that sentence because I was struggling at school, so I decided to try Explore Learning. I signed up for a free trial session and I immediately felt better, everything was just right for me, I enjoyed what I was doing.
I am so happy with my education here
I have been a member for around five years and in that time my parents, my school and I have all noticed a huge difference in my work and my confidence. I can now write full, descriptive sentences with good punctuation and grammar. My tip would be to attend all of Explore's workshops on the subjects that you struggle with as these really helped me! From when I started I have gone through SATS and got above average thanks to Explore and I am so happy with my education here, I intend to carry on until my GCSEs.
All the tutors are super friendly and always help you whenever you struggle with a question. One thing that really motivated me was the prize cabinet, so I knew I really had to push myself to earn all my lizard cards so that I could get a remote control car! I still play with it today, and I was extremely proud of myself when I finally got it.
I felt much happier and more confident at school
Explore Learning has really helped me at school, as it has reinforced any concepts that I did not understand so I felt much happier and more confident at school. I have previously brought some of my school work into the centre so that the tutor could help me with a certain topic.
I have loved my time at Explore Learning and I hope you do too!"
We're so proud of everything Leo has achieved! If you'd like to see how your child could gain confidence and make great progress, just like Leo, speak to us today!
Discover more interesting posts from our blog
---
Talented member is the star of a new TV show!
February 26, 2018
10-year-old Sophie Ryder is not only a member at our East Kilbride centre, she's also the star of a new TV show Gudrun: The Viking Princess on CBeebies! We chatted...
Read this post
Everyday maths
October 18, 2016
You've probably never stopped to think about it, but maths helps us with so many everyday tasks! Charlotte Gater, Head of Curriculum at Explore Learning, explains...
Read this post