Local MP visits inspirational Abbey Wood members
March 02, 2018
We're so proud of our members from the Abbey Wood tuition centre who gave a fantastic talk on tackling global warming to local MP Teresa Pearce!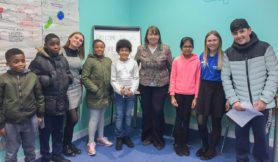 The group of inspirational 10 to 14 year olds are members of our 'Succeed in Secondary' course at our Abbey Wood tuition centre, which supports children to feel confident for that big transition from primary to secondary school. Members develop important skills in researching, reasoning and debating, and planning and writing. Within the course, children have been working on a project called 'The carbon cycle' where they have been calculating their own carbon footprint and the effect humans have had on the world around us. To complete the project, the children were asked to write a letter to their local MP, Teresa Pearce, outlining the importance of working as a region to tackle climate change by reducing our collective carbon footprint. Mrs Pearce was so intrigued by the project that she decided to see the presentation live in action!
Teresa Pearce MP for Erith and Thamesmead said: "I was so pleased to attend Explore Learning and listen to the impressive young people present their ideas to tackle global warming. It's a wonderful project and a very important issue. It was clear that they had worked very hard to bring their presentation together and I am proud to have such great young people in my constituency."
Jodi Kelly, Centre Director at Explore Learning Abbey Wood says: "Explore Learning covers a number of different topics in Succeed in Secondary, from 'The evolution of technology' to 'The carbon cycle'. All of these topics are hugely relevant to this generation, which may explain why the children are so engaged with the course. It allows the students to express and discuss their ideas and opinions in a guided and supportive environment. Since beginning the course in September, we've seen not only a development in our members' skills and knowledge but also in their confidence to present ideas to their peers on a weekly basis."
A big well done to all our Succeed in Secondary members for getting behind such an important topic – and impressing Teresa Pearce MP with their presentation skills!
If your child is getting ready to start secondary school, check out our Succeed in Secondary course to see how it could help them to feel confident and excited for the next steps!
Discover more interesting posts from our blog
---
More maths for everyone
November 22, 2017
In today's budget, the government committed to investing more money for maths teaching in schools. Charlotte Gater, Head of Curriculum at Explore Learning, shares her...
Read this post
Simple strategies & fun ways to teach maths to children
March 08, 2021
Looking for fun ways to teach maths? For children who want maths to be made a little more interesting, to those who like to get a little more creative, we've got...
Read this post