SMART goal setting template: New year, new goals
January 06, 2020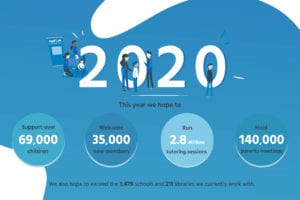 Encouraging your child to set a goal, no matter how small, can be a great way to help them focus on what they want to achieve this year. We asked some of our members what goal they wanted to set for 2020 and what advice they would give others to achieve their goal.
Here is what they said….



Lots of us will make resolutions for the new year, but come the end of January how many of us will have stuck to them? If you have goals that you want to make with your children, then think about making them SMART.
SMART goal setting:
Specific – What are you actually going to do? Action verbs are useful to use.
Measurable – How will you know you've achieved it? Put a measure in place.
Achievable – You need to stretch yourself, but also be realistic.
Relevant – Will it have a positive impact?
Time – Be specific, give set timeframes and state what you will achieve by then.
Let's look at an example; you've had feedback from school that your child needs to concentrate more. If together you set a goal of 'concentrate more', you are unlikely to see any results. If you make your actions SMART you'll have a better outcome.
Specific – Together, think about when they need to concentrate more. When listening to instructions? When writing, reading etc. Then think about a goal that will help one of the areas you have selected.
'Summarise instructions either to someone else or to myself'.
Measurable – How will you know you've achieved this? At home, you could use a tick chart to keep a record of how many times they have correctly concentrated on instructions and can summarise them to you. When they come out of a club or school, chat about how they focused on instructions.
Achievable – If concentrating when others are talking is hard, then this is a challenge for them, but it's manageable. It's tackling one area of concentration and won't overload them.
Relevant – This target is relevant to the much larger goal of overall concentration. Think about doing things in stages. Once they have formed a habit of concentrating on instructions you can set a new goal, focusing on a different area that will positively impact their concentration.
Time – Select a reasonable time frame e.g. Summarise instructions either to someone else or to myself every day for one month. At the end of the month reflect on what is going well and what needs to be changed.
SMART goal setting doesn't just work for children. Set your own to work on too!
Make this year count and download your free goal setting poster to complete with your child by visiting The Club.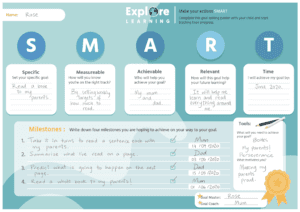 Discover more interesting posts from our blog
---
What makes a fearless learner?
January 19, 2017
At Explore Learning our aim is to help children to excel academically, to reach their potential and get the best results they can. But more than that, we are unwavering...
Read this post
Is your child's vocabulary holding them back?
August 01, 2018
Education Secretary, Damian Hinds, has highlighted the need for children to develop good language skills. Here are some ways you can help your child with their...
Read this post