Make the most of parents' evening
January 31, 2020
Parents' evenings can sometimes feel daunting, especially if you're not equipped with a handful of questions.
That's why we've put together a useful to guide with everything you need to know to help you make the most of this time with your child's teacher.
The guide includes:
Why attend parents' evening?
Top tips to take with you to the meeting.
Suggested questions template with a notes section.
Steps to take after a parents' evening.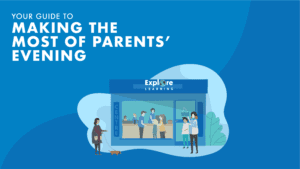 Discover more interesting posts from our blog
---
We're in The Sunday Times Best Companies To Work For
March 09, 2017
For the fifth year running, Explore Learning has been named as one of the best companies to work for in the UK by The Sunday Times! We're so proud to be named...
Read this post
Happy Roald Dahl Day! Birthday card designs
September 13, 2016
Today (13th September) would have been Roald Dahl's 100th birthday! In honour of the Roald Dahl Day celebrations, our members have been designing birthday cards for...
Read this post