Make the most of parents' evening
January 31, 2020
Parents' evenings can sometimes feel daunting, especially if you're not equipped with a handful of questions.
That's why we've put together a useful to guide with everything you need to know to help you make the most of this time with your child's teacher.
The guide includes:
Why attend parents' evening?
Top tips to take with you to the meeting.
Suggested questions template with a notes section.
Steps to take after a parents' evening.
Click here to download your parents' evening guide now!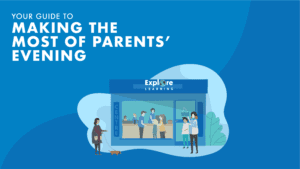 Discover more interesting posts from our blog
---
Author Q&A: Danny Weston
April 04, 2018
Danny Weston is a teen horror writer and winner of the Scottish Children's Book Prize. He recently ran a workshop at our Edinburgh Blackhall centre on what it's like...
Read this post
Britain baffled by education terms
May 31, 2019
Half of Britain's parents admit that they can't understand their child's school report, our study reveals. But don't worry – help is available! We spoke...
Read this post