Online tuition vs in person tuition: Which is better?
July 13, 2021
Today, there are lots of ways your child can receive tutoring and learning support. But which is best? We compare online tuition vs in-person tuition to help you make that all-important decision.
Let's get started…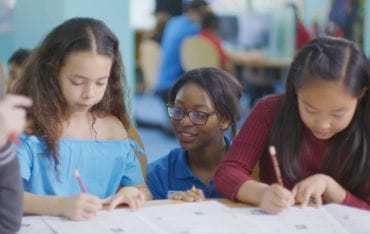 Face to face tuition vs online learning – the differences
So, what are the main differences between the two?
Resources – online tutoring resources tend to all be digital, while in-person tuition may use books, worksheets and other supplies. Online tuition requires a laptop or tablet.
Location – online tuition always takes place at home (or in the library or at a friends house!) while in-person tuition can take place at a tuition centre
Cost – the cost of sessions can vary slightly between online and in-person tuition

Online vs in-person tuition – the similarities
While there are some differences between the two types of tuition, at the heart of things, they are much the same. Quality tuition (in person or online) should be;
Bespoke and adaptive for student's individual needs
Engaging
Aligned with the national curriculum
Safe
Accessible
Successful in advancing learning goals
Led by expert tutors
The benefits of in-person tuition
It's time to explore some of the benefits of face to face tutoring…
Building a positive tutor-student relationship
While online learning comes with a whole host of benefits, it's never quite the same feeling as meeting face to face. In-person tuition allows tutors and students to build positive and often long-lasting connections.
Explore tutors are brilliant at striking the balance between coach and cheerleader. Creating memorable learning moments and developing learning habits that will support your child throughout their life.
Social skills
One of the things that children have most missed out on during the pandemic is peer interactions. Building social skills is important for your child's development and in-Centre, small group tuition sessions provide a fantastic way to connect and make friends.
In our group sessions, children benefit from the attention of a dedicated tutor with a small group of their peers. This allows for sharing, collaborative projects and more rich learning experiences!
The benefits of online tuition
Now let's take a look at some of the advantages you get with tutoring online…
Convenience
If ferrying them to and from their tuition centre is difficult to fit into your busy schedule, online classes can be a welcome relief! With online tutoring, you can cut out commuting time and your child can continue their learning from the comfort of home.
Flexibility
Make tuition work for you. Online education can fit around your family's schedule. This is particularly helpful if your child has lots of extra-curriculum activities to fit in after school.
Comfort & security
Not all children thrive in a lively classroom environment. For some, learning from home comes with fewer distractions, allowing them to fully focus and enjoy their learning experience.
Being in a familiar environment where they can fully be themselves can boost their confidence and help them achieve their goals.
Find tips for helping children with school anxieties here.
Lower costs
The costs of online tuition can be cheaper than in-person tutoring. That's because you're not paying for all the upkeep and costs that come with keeping a centre running.
Our online tuition starts at just £99 a month.
Technology skills
Online students benefit from becoming tech whizzes! A vital life skill for the modern world.
We use industry-leading technology to provide a smooth, safe and effective learning experience that is bespoke for your child. Tutoring takes place using video calls and screen sharing – all good practice for the future world of work.
Online resources 24/7
Online learning resources mean that your child can practice in their own time, whenever works for them. This is especially helpful if your child works at a faster or slower pace than their peers in the classroom.
Covid safe
In today's world, our health is more important than ever. One benefit of online tuition is that it can be done safely from home. Whether you're self-isolating or worried about taking extra risks – online tuition provides a great alternative to in-person learning.
Our tuition is provided through our own secure platform, providing an engaging child-friendly environment.
Easy to use
Most children are now used to completing some online school work due to distanced learning during the pandemic. We've made our online maths and English tuition super easy to use for children and parents alike. All you need is a laptop or tablet for learning without limits.
The verdict – Which is best?
The best option for you and your family depends entirely on your lifestyle and your child's learning needs and preferences. Both options can help to deliver their academic and personal goals. It just depends on how best they learn and what fits into your everyday life.
If your child is anxious or easily distracted – they may benefit from learning in the comfort of home. Or, if your family has a busy schedule – online classes may be more convenient.
On the other hand, children who thrive in the company of their peers or who love the bustle of the classroom may get more out of in-centre sessions. Likewise, if you want to minimise their screen time, and promote more human contact time in-person tutoring could be a better option.
Whatever you choose, we're here to help.
Get the best of both worlds!
Can't decide between the two? The good news is, our flexible tuition memberships allow you to reap the benefits of both in-centre and online tuition.
Find out how it works and book a free tuition trial to get started.
Discover more interesting posts from our blog
---
Season's Tweetings card wins competition!
December 08, 2016
To get into the festive spirit, we asked our members to design a seasonal scene that would become Explore Learning's official Christmas card 2016! As you can see we had...
Read this post
We're in Whiteley!
September 05, 2017
We recently launched our second tuition centre in Hampshire with the help of the Mayor of Winchester, David McLean, who kindly came along to cut the ribbon! Our newest...
Read this post