Sheffield member shares his views!
June 13, 2017
11-year-old Ben Chen is a member at our Sheffield Ecclesall Road centre and was inspired to write a review of Explore Learning!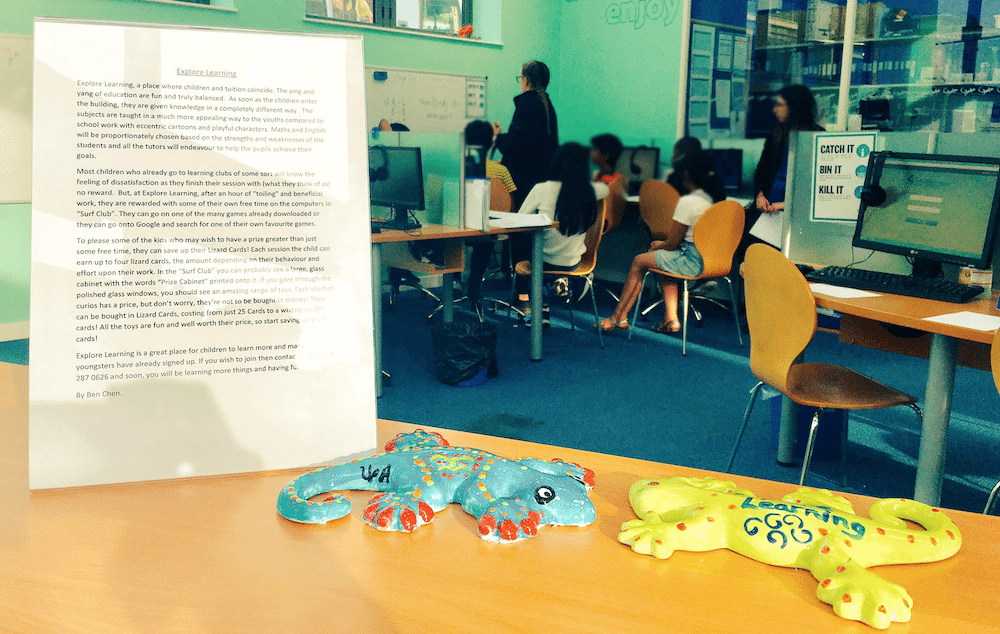 Ben has been a member of Explore Learning for four years so he knows us very well! We're delighted to share his experience with you here:
"Explore Learning, a place where children and tuition coincide. The yin and yang of education are fun and truly balanced.  As soon as the children enter the building, they are given knowledge in a completely different way.  The subjects are taught in a much more appealing way to the youths compared to school work with eccentric cartoons and playful characters. Maths and English will be proportionately chosen based on the strengths and weaknesses of the students and all the tutors will endeavour to help the pupils achieve their goals.
Most children who already go to learning clubs of some sort will know the feeling of dissatisfaction as they finish their session with (what they think of as) no reward.  But, at Explore Learning, after an hour of 'toiling' and beneficial work, they are rewarded with some of their own free time on the computers in 'Surf Club' They can go on one of the many games already downloaded or they can go onto Google and search for one of their own favourite games.
To please some of the kids who may wish to have a prize greater than just some free time, they can save up their Lizard Cards! Each session the child can earn up to four lizard cards, the amount depending on their behaviour and effort upon their work. In the 'Surf Club' you can probably see a large, glass cabinet with the words 'Prize Cabinet' printed onto it. If you gaze through the polished glass windows, you should see an amazing range of toys. Each shelf of curios has a price, but don't worry, they're not to be bought in money! They can be bought in Lizard Cards, costing from just 25 Cards to a whopping 200 cards! All the toys are fun and well worth their price, so start saving up your cards!"
Ben's lovely words have taken pride of place in the centre for everyone to read! If Ben's review has inspired you to find out more about what we do, why not come along to a free trial at a centre near you?
Discover more interesting posts from our blog
---
Explore tutor named regional winner at award ceremony!
August 07, 2017
Explore Learning tutor Shioma-Lei Craythorne was named a regional winner at the Student Employee of the Year Awards 2017! We're excited to share the news that...
Read this post
Is maths important?
October 13, 2016
At Explore Learning, we often find that children see maths as all about getting to the answer as quickly as possible and if it's not immediately apparent, switching...
Read this post