Supporting children with autism
April 01, 2019
Sam is 6 years old and has autism. Sam's mum, Emma, has tried many different methods to support him and shares her journey with us here…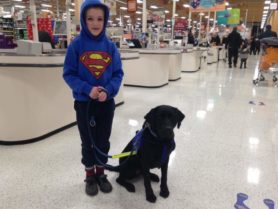 Diagnosis
Sam was 5 when he was diagnosed. After a traumatic and difficult start to year 1 in mainstream school it became obvious to ourselves and school that Sam was struggling and needed help. A referral resulted in the autism diagnosis through the Ryegate Centre in Sheffield. The diagnosis was upsetting for us but also a relief to be able to understand Sam and learn how to help him.
Homeschooling
Sam needed to be home educated whilst a specialist provision was found for him. Our mainstream school has been amazing, it has tried many different ways to support and help Sam. As part of his home education he still accesses the nurture provision of his school to enable him to socialise and have friends. Sam loves his school; it's just not a suitable environment for him for learning but he has many friends and the teachers and staff are very close to him.
Learning support
We decided that Explore Learning would give Sam a continued experience of learning within a group environment but in a way that was manageable to him – with small groups, computer-based learning and tutors. Sparkle Sheffield have trained the staff at Hillsborough in autism and we knew they would understand our son.
Explore Learning has had a massive impact on Sam. He used to be a child too anxious to be in a classroom, who never asked for help and would not put his hand up in class. The staff at Explore Learning have helped to build Sam's confidence with asking for help, his ability to concentrate and develop his motivation to put effort into his learning. Through Explore Sam has rediscovered a love of learning again; he wants to go and wants to learn, trying to answer more and more questions each time he goes. Because of Explore he wrote his first ever story!
The staff at Explore are excellent and really understand Sam. When he has a difficult day they are quick to reassure him and offer him the support he needs. They go out of their way to help him when he is anxious and struggling to even walk through the door.
Amazing assistant dog
Sam suffers from severe anxiety and depression because of his autism. He has extreme sensory sensitivities and difficulties. Because of this, Sam finds the world frightening, scary and difficult to navigate. We got to the point where Sam would not leave the house at all and if we managed to get him out he would have constant meltdowns, running off and would be in danger.
Desperate to help our son we went to an open day at Support Dogs and saw how amazing these support dogs are. We just knew that Sam would really benefit from an assistance dog. During the following nine months we had interviews, assessments and lots of visits before Sam was matched with Willow. They had an instant bond! Willow was then trained specifically to help Sam with lap rests, nudges, and visiting places Sam would like such as bowling, trains, swimming etc. She came home to us in November, ten months after we started the whole process.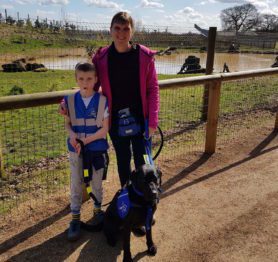 Willow has changed all of our lives for the better, it is amazing! Sam can now go out and feel safe and be safe. Willow helps keep him calm, gives him something to focus on in difficult situations and she comforts him when he is struggling. She is always by his side. Sam is a much calmer, happier little boy who is smiling again!
For us as parents, Willow has given us hope for the future; hope that our little boy will be happy again, will learn to manage in the world and become independent. We now have a future we can look forward to, increasing the places we can visit and the activities we can do as a family all together.
Advice for other parents
Try everything and anything that you can; we have tried so many different methods to help Sam. It has been a very long journey but with everything that fails we learn something new and we now understand him better than ever. The smallest changes can make a difference, such as giving Sam a break before he starts his Explore Learning session so that he has time to transition and get used to being in the centre. Keep going and keep trying because, when you do find the special little things that work for your child, it's worth it and it makes life a lot better for all of the family. Ask for help and ask for support as much as you can because there is help out there – it just can be hard to fight for.
We work in partnership with parents to support children with both a diagnosed or suspected Special Educational Need. We'll listen to you about how your child works best, what their specific needs are and how their learning needs affect them individually.
Discover more interesting posts from our blog
---
Education in heaven
January 05, 2018
A member from our Urmston centre decided to write an essay about his experience at Explore Learning, and it really made us smile! Aysin has been a member of our...
Read this post
What is surf club?
August 22, 2018
Surf club is a fun and creative part of your child's Explore Learning session. Lauren Rhodes, a tutor from our Stourbridge centre, explains why… Why does Explore...
Read this post