The importance of reception year
August 23, 2018
Research shows that children who are taught well in their first year of school go on to achieve better GCSE results in English and maths. Reception teacher Hayley Garland reveals why the reception year is one of the most important years of a child's school life…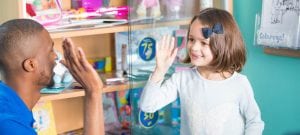 As a parent, you are your child's first educator, and your home is their first learning environment. It is here that firm foundations are laid to build a sense of emotional security and resilience. After their home, school is the next most important place for most children. The experiences at school play a vital part in children's lives, determining their academic, social and possibly occupational futures.
That's why it's so important to get it right from day one. It is generally accepted that children's early experiences have the biggest impact upon their later life. In the first five years children develop physically, cognitively and emotionally at a faster rate than at any other time.
In reception, teachers work hard to embed positive attitudes towards school and learning, in addition to setting the expectations for children's behaviour and building sound understanding of key concepts such as reading and numbers.
It is believed that children who are taught well in their first year of school go on to achieve better GCSE results in English and maths (from academics at CEM and Durham University). Sir Kevan Collins, Chief Executive of the Education Endowment Foundation, said:
"The early years are a crucial time for development and we know that quality of teaching has the single biggest impact on how well children do in school."
The "Bold Beginnings" report published by Ofsted in November 2017 also emphasised the significance of the teaching of the initial concepts of reading and number that takes place during reception:
"Put simply, by the end of reception, the ability to read, write and use numbers is fundamental. They are the building blocks for all other learning. Without firm foundations in these areas, a child's life chances can be severely restricted."
But the reception year teaches so much more than that!
In reception, teachers have a statutory duty to carefully facilitate the 'characteristics of effective learning'. These are the fundamental skills and attitudes required to help children become lifelong learners, focusing on not just what children need to learn but how they learn it. Children develop the ability to become independent and capable learners for life when we focus on the following skills and attitudes:
being willing to have a go and try something new
bouncing back after difficulties and persisting in the face of challenge
being encouraged and supported to have their own ideas
finding more than one way of doing something
being proud of how they achieve something, not just the achievement itself
making links and connections between their learning
Moreover, the reception class curriculum uniquely highlights the importance of other learning skills that children need in order to access the learning that takes place later on in school. These skills are considered 'prime' interdependent areas and underpin all other teaching in reception classrooms. The prime areas of learning and development are:
Personal, Social and Emotional Development: Being able to negotiate, consider the ideas and needs of others, empathise and work successfully as part of a team.
Communication and Language: Being able to process and follow instructions, having the confidence to communicate freely and express themselves as a learner, and being able to listen attentively in a range of situations.
Physical Development: Developing the control and coordination needed for both small and large movements, using tools effectively, negotiating space and understanding the need for physical exercise, a healthy diet and how to keep yourself healthy and safe.
It's clear that these skills undoubtedly support and scaffold learning across all areas of the curriculum as well as helping children to become well-rounded, capable individuals.
Starting reception is an exciting time of learning lots of new skills! We're here to support your fearless through the early years and beyond.
Discover more interesting posts from our blog
---
Happy 10th Birthday, Edinburgh Blackhall!
February 07, 2014
Lise McCaffery, Curriculum Development Manager at Explore Learning Next month, the Explore Learning centre in Blackhall, Edinburgh will celebrate its 10th birthday.  I...
Read this post
Mythbusting the 11 Plus and entrance exams
April 04, 2018
For those who are navigating the grammar school process for the first time, it can be a complicated and, at times, confusing process. Katie Williams, our Curriculum...
Read this post