We're in Whiteley!
September 05, 2017
We recently launched our second tuition centre in Hampshire with the help of the Mayor of Winchester, David McLean, who kindly came along to cut the ribbon!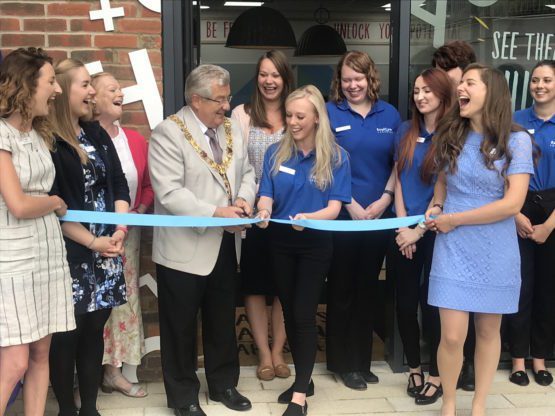 Our newest Whiteley centre is in the Whiteley shopping centre, and visitors may notice a different look to other Explore Learning centres. We're trying out some new designs including chalk board walls in surf club, funky lighting, an older member hangout and of course, our updated logo!
Ellie Nemec, Centre Director at Explore Learning in Whiteley says: "We are so excited to open our new centre and bring Explore's unique form of tuition to families in the area.  We've been hoping to launch in Whiteley for a long time and with the extension of the shopping centre, it was the perfect time. There is a real gap in the market for educational support of this style and we have already had a fantastic reception from the local community, particularly schools and parents."
As well as English and maths tuition every day of the week, Explore Learning Whiteley will be launching specialist courses in Succeed in Secondary School in September, Creative Maths in October and Creative Writing in November. They will also be running free workshops with local libraries, schools and community groups – particularly around their annual competitions, the National Young Writers' Awards and the National Young Mathematicians' Awards.
Charlotte Gater, Head of Curriculum at Explore Learning says: "Children with varying levels of ability come to us for extra help in maths and English or to enjoy learning in a new, social environment. We have a team that are incredibly passionate about what they do – they really care about the children and this is reflected in the fun the children have when they attend."
Come and meet the team and have a look around our Whiteley centre!
Discover more interesting posts from our blog
---
Explore the benefits of online tuition
January 28, 2021
It can be tricky to find the right online tuition that will support your child to reach their full potential. Here we explore the benefits of our online tuition, how it...
Read this post
Explore Learning's Succeed in Secondary course
May 05, 2020
Our Succeed in Secondary course: making the most of the big leap. We all remember how we felt as we prepared to start Secondary school. Or before sitting an exam, or...
Read this post