We've been shortlisted in the EducationInvestor Awards!
July 26, 2018
We're thrilled that Explore Learning has been named one of the best private tutoring companies in the UK in the EducationInvestor Awards!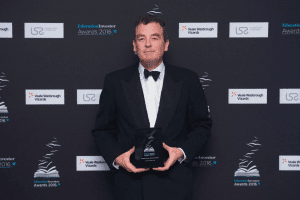 The EducationInvestor Awards, which celebrate organisations and individuals that have made an outstanding contribution in education, have named Explore Learning as one of the finalists in the category of 'Private tutoring company of the year'.  The winner will be revealed on 3rd October in a prestigious ceremony in London.
Bill Mills, our CEO and Founder says: "Every parent wants their child to succeed; to flourish at school and achieve academically, but most importantly to leave with a platform of skills which sets them up for future success.  At Explore Learning, we deliver exactly that and we are thrilled to be named a finalist in the EducationInvestor Awards for another year. Having the hard work of all our team in our 139 centres, and head office, recognised in this way is absolutely brilliant."
Explore Learning has either won, or been shortlisted for, an EducationInvestor Award for the past six years.  The awards promote excellence and innovation in the education sector and are an opportunity to showcase companies' expertise and commitment to what is an increasingly important sector.
Since Explore Learning was created in 2001, we've helped over 250,000 children to become a generation of confident, Fearless Learners – unafraid to tackle anything! We're so proud of everything our members have achieved – you can meet some of them and read about their journeys here.
We love hearing from our members about how far they have come since joining Explore Learning, just reading our Trustpilot reviews makes us smile every day!



Want to know what makes us different? Come along to a free trial session to experience our centre in action and meet our amazing people, it's a great way to see for yourself why we're one of the best private tutoring companies in the UK!
Discover more interesting posts from our blog
---
Mum, dad and santa: Children share their heroes!
March 07, 2018
To celebrate the return of our National Young Writers' Awards, we asked our members to tell us about their heroes – which is the theme of this year's...
Read this post
Marvellous maths and engaging English
March 15, 2018
You might hear the children groan when you suggest some educational activities outside of school, but here are some ways you can engage them with maths and English...
Read this post