Young Writer of the Year: a mum's perspective
June 20, 2018
Deborah is Mia Falatoori's mum, who has just been named the National Young Writer of the Year by judge David Walliams! Deborah shares some fond memories of Mia's love for writing…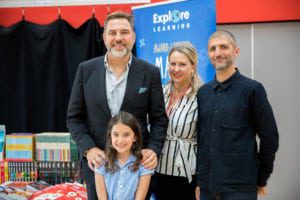 Mia Falatoori's story 'The mum with the toxic bum' was picked from over 38,000 entries by our judge David Walliams to be the winner! Deborah, Mia's mum, was there to see Mia crowned the Young Writer of the Year at a surprise school assembly: "We are incredibly proud of Mia's achievement in winning this national award and excited to be sharing her happiness with her school and friends. Mia's passion for writing has been very evident from a young age and we enjoy supporting her wholeheartedly — always looking forward to her next story that she captures from her imagination."
Deborah also shares some insider knowledge on Mia's love of writing:
"Since joining nursery school aged 1, Mia quickly and fondly became known as 'The Little Bookworm' — you would always find her in the book corner rummaging through the pages of the storybooks even before she could read!
Mia has, from a very young age, always used storytelling as a way of understanding the world around her and using it to form her own creative voice. Ever since she visited the Roald Dahl museum at age 3, she has been inspired to keep a note book with her at all times so she can always jot down her thoughts, or many story ideas she likes to create. Our home is now full of little jotters filled with random words, phrases and ideas.
Over recent years, Mia has been absorbing all of David Walliams books, which sits as one of her favourites among her bookshelf. She thoroughly enjoys the left-field, comedic aspect mixed with a child's perception of the world around them – eagerly awaiting to see where familiar characters like Raj will pop up!
Quite often you can hear her giggling after lights out!!"
Is your child a passionate young writer? Or perhaps they have writer's block? Our creative writing course can inspire their imagination!
Discover more interesting posts from our blog
---
Amazing regional winners of our writing competition!
May 25, 2017
We had thousands of fantastic entries to our National Young Writers' Awards this year, and we were so impressed by the imagination of all the story-writers across the...
Read this post
Assessment days at Explore Learning: what are they really like?
July 18, 2018
Hi! My name's Nick. I've been with Explore since 2016, where I started as a tutor to supplement my Master's degree. I quickly realised that it was a place that I...
Read this post