Be braver with maths
October 15, 2018
More than a quarter of girls (27%) said maths was the subject they were most nervous about in our recent survey, compared to just 19% of boys. See more results in our infographic…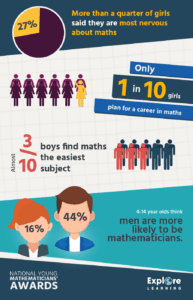 A study published by the Institute for Fiscal Studies has found that girls achieving top grades in science and maths at GCSE are deterred from continuing to a higher level because they are affected by low confidence and an absence of peers in the classroom.
This was reflected in our research which surveyed 1,000 children aged from four to 14. It revealed that more boys (17%) plan to study maths when they grow up than girls (10%). Girls fear maths more than boys, whilst almost three in ten boys find maths the easiest subject. The survey also asked 1,000 children which names of famous mathematicians they recognised; girls and boys alike did not recognise prolific maths role models that were women. While 15% of boys and 14% of girls knew who Professor Stephen Hawking was, only 5% of girls knew Rachel Riley – who was recognised by even less boys (4%).
The younger generation also think men are more likely to be mathematicians. When presented with professional images of men and women and asked which they would say is a mathematician, images of men came out on top by far. Nearly half (44%) of both boys and girls voted for a male picture compared to 16% for a female image.
The research was conducted to celebrate the return our National Young Mathematicians' Awards, which inspires all children to love maths!
Now in its eighth year, the free competition invites schools to enter a team of four pupils who will have the unique opportunity to tackle a never-before-seen mathematical problem. By popular demand, this year's competition will be split into two levels – a primary competition for pupils in year 6 and below and a secondary competition for pupils in year 7 and year 8.
Charlotte Gater, Head of Curriculum at Explore Learning says: "It's so important for boys and girls to be confident in this core subject and explore numbers in different ways to see how enjoyable maths is! There is no reason girls should be less confident than boys when research and exam results show they are just as capable in the subject. At Explore Learning we work with boys and girls alike to solve all kinds of numeracy problems and really inspire a love for the subject."
Want to encourage a love of maths in your child? Find out more about our National Young Mathematicians' Awards today!
Discover more interesting posts from our blog
---
New term tips for teachers
August 23, 2017
As we rapidly move towards September, teachers are preparing to start the new school year with a bang! We asked teachers for their top tips on how staff can get ready...
Read this post
The 'three-month dip'
August 10, 2018
Have you been getting ready to go to an Explore session and your child suddenly says 'Do I have to go today?' Here's what might be going on… What is the...
Read this post