Fitting Explore around busy life
July 31, 2018
We know that life can sometimes get a little busy; that's why we work hard to make our membership as flexible as possible for all families. We share some top tips on how make the most of this flexibility…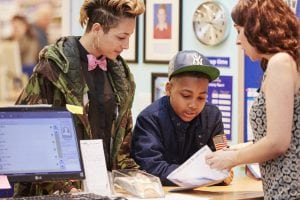 Get into a routine
The flexibility of our membership is perfect to ensure sessions fit around busy family life. We do, however, know that for many families finding a regular day and time for your sessions can make a real difference – particularly when the new school year starts! One mum who finds this particularly helpful is Nikki, who attends our Woking centre:
"My children always attend on a Monday and Sunday because it works with our other after school clubs and family commitments. This ensures we fit the children's sessions into our weekly routine. This also makes a real difference to the children – they know we're going to Explore on those days and so are much more engaged during their sessions."
If you're finding it hard to fit in your sessions, we strongly recommend finding a routine and wherever possible, sticking to it!
Finding the right day
If your child finds going back to school and managing new clubs and activities tiring, think about what days you're coming along. We often find members are fresher and more energised at the start of the week or weekend.
Optimal attendance
We often speak to parents who are concerned that they're not always able make it to Explore twice a week. For those of you who have had similar concerns – do not fear! Our Head of Education, Charlotte Gater, explains why: "Over the past 16 years we have conducted extensive research into the ideal number of times children should attend each month for optimal progress. We have consistently found that members who attend for 6-7 great sessions a month make more progress than those cramming in 8 sessions when children are tired and lacking motivation."
Making up sessions
We know that everything can seem busier in September. If you feel like your child would benefit from doing fewer sessions in September and a few more in October half term, that's fine!
Our flexible membership is designed to fit around family life – therefore any sessions you miss can be used by the end of the following month. This is a benefit available to all current paying members.
We hope you found these tips useful! If you have any questions about making the most of your membership, chat to your centre team today.
Discover more interesting posts from our blog
---
#NowICan - Mia and Saskia's progress!
July 25, 2016
Two stars of our #NowICan video, Mia and Saskia, have been very busy working on their summer learning goals – find out how they have been getting on here! Mia would...
Read this post
How to become a times tables master
March 27, 2020
Learning a new times table? We've got the techniques to help you become a times tables master! Start with objects and pictures You can use blocks, counters, or...
Read this post