NEW senior curriculum
June 10, 2019
A brand new senior curriculum is now available in our centres! It will provide even greater support for our secondary school members – find out more about it here…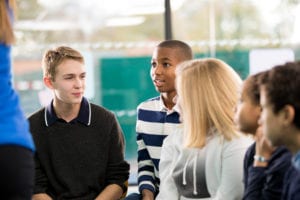 Parents, staff and members shared their feedback on how we can best support our secondary school members, so we listened! We've partnered with EdPlace to bring you a brand new senior curriculum which offers challenging content that's mapped to all UK school curricula in maths, English and science.
The maths and English activities can be worked on in centres with support from our tutors, but excitingly our members can also access maths, English and science activities at home – giving you more flexibility as to how and when your child learns with Explore. Your child can follow a completely tailored and supported learning pathway, as well as having the choice to practise any topics they would like to focus on outside of the centre.
On top of this, our experts have also created a specific writing-focused element of the new curriculum designed to develop skills that will support children when approaching written work – both at school and on our Succeed in Secondary course. So far, members who have trialed this new writing tool have made fantastic visible progress – and they've even told us that the enjoyed writing more than they normally would!

As well as interactive videos, there are also built in rewards to keep your child motivated. For each correct response, your child will earn points and even badges for specific achievements.
So what's in it for the parents? You can easily access progress reports at any time, giving you more insight into your child's learning in between parents' meetings. You can view the average percentage your child is achieving in each subject, how many activities they have completed and see a list of the topics they are performing well in and those they are finding challenging.
We can't wait to see the amazing progress our members can make with the new curriculum!
If you'd like to see our new curriculum in action and find out how we can support your secondary school child, try it for free online.
Discover more interesting posts from our blog
---
Our Burnley centre has launched!
November 15, 2016
We celebrated the launch of our new Burnley centre on Saturday 12 November, and were lucky to have some exciting guests join us! The centre, located on Kingsway,...
Read this post
Get set for secondary school
August 22, 2017
Jonny Simmons, Centre Director at Explore Learning, shares his advice for children taking the step up to secondary school and get them excited for this new challenge!...
Read this post