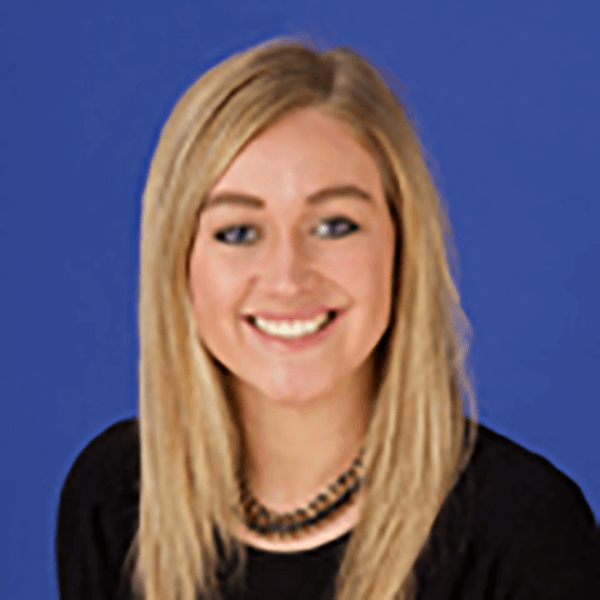 Meet Clair Bryceland
Assistant Director
I graduated from The University of Glasgow in 2014 with a 2:1 MA degree in Hispanic Studies. When I finished University, I was unsure as to what I wanted to do (my thoughts were either to go into language teaching or a position in marketing). As I was undecided, I returned to University to do a Postgraduate – a Master of Philosophy in Hispanic Studies. My degree started and then I received an email from a careers webpage telling me about Explore Learning. It was fate that I actually opened it as my inbox was usually inundated with graduate job adverts and I never opened them! The fact that Explore could offer such a varied role really appealed to me. I didn't think twice about applying – I spent a while on my application (top tip, save it as you go as the webpage timed out on me!) I was delighted to hear back and be offered a centre interview. My overall recruitment experience was fantastic – although a bit nerve-wracking, it was really enjoyable, nothing like other graduate assessment days I had attended. Everyone who works for Explore is so friendly which made me feel slightly more at ease. I found out that I had been offered a position as Assistant Director in July 2015, I was over the moon. As there were no opportunities in Glasgow, I jumped at the chance to start in Aberdeen as I was very excited to begin my career rather than being put on a waiting list. I started my Explore Journey in August 2015 as AD of Aberdeen; I loved every minute of my centre life there. There is no denying  that it was challenging  juggling a full time job with a full time masters degree, but I managed and I wouldn't change it for the world – if I managed then anyone can.  I love my job and let's face it that is why we study in the first place!
By moving for the job, I got to start straight away and experienced living in a new city. In Aberdeen I worked with a fantastic team who really supported me and made me feel at home. The role of an Assistant Director is extremely broad and although can seem overwhelming at first, Explore provide quality training with every aspect of the position. I came from a customer service background and so had lots of experience in this area which was very useful as a large part of the job consists of chatting to families,  investing time in getting to know your members and ensuring you provide  the best possible service – no task is too big or too small! Since working with Explore I have developed a number of skills for which I am very thankful. Throughout my time as an AD I had countless roles, I loved being given so much responsibility right at the beginning of my career – as a company they invest so much trust in you which is amazing! My favourite roles were community marketing and finance, which is surprising as I didn't think I was interested in a numbers/data related role.
I spent 8 wonderful months with my team in Aberdeen, within this time we achieved so much together! We grew our centre to over 300 members and were successful in building a great referral programme which demonstrated the fantastic service we were providing. We actually won an award for this at our annual Recognition Awards Dinner which is one of the most memorable occasions of my career so far! I was sad to leave my old centre as I had built bonds with all of the fab members but I knew that my new centre would be just as incredible.
The next step for me was something I was extremely excited about – after not even being with the company for a year, I was moving to the Edinburgh Blackhall centre as Centre Director – something which I am very proud of. I thank Explore learning for giving me such top quality training and feedback and aiding my development allowing me to achieve my goal so quickly. One of the many qualities I praise Explore for is the amazing career progression which they offer. If you work hard and are really invested in the company and the service then as cliché as it sounds, the world really is your Oyster! I have been CD for nearly two months now and absolutely love it. I couldn't possibly narrow it down to pick one specific area of the role which I favour, there are so many. My job now involves fewer roles but more responsibility, I really enjoy the people development side of things, working closely with my great Assistant Directors, giving them feedback and helping them grow to become the best CDs they can be – which I know will happen one day soon! Getting on with your team is key – you work nine hours per day with them, making it is so important that you bond well. As a Centre Director, my day is never the same which keeps me on my toes. As a student I would work four hour shifts in a call centre and hated it, my day would drag and it felt like I had been there forever! At Explore, my working day is longer but it flies by, I could never go back to working in an office environment – the centre life is always exciting. I love the buzzing atmosphere and the sound of kids learning but enjoying themselves at the same time. What I really love about my job is being able to support kids who either lack confidence or have additional support needs, it is fantastic to watch them progress academically but also develop into confident individuals. At Blackhall we currently have 330 members and I know the name of every single one of them. It is great going home at night and knowing I have made a difference to a child's learning; my job is as rewarding as they come and that makes me smile. Some of my friends spend their weekends moaning about their careers – this is not an issue for me. They say that if you love your job you will never have to work a day in your life – come to Explore and this will become reality!
Discover more interesting case studies
---