More than just a learning centre
---
Our vibrant and energetic centres are a great place for your child to expand their mind, but most importantly they're a safe place where members can feel at home. At Explore Learning we ensure that everyone, whether child or parent, feel part of our family.
That's why we're confident that from the moment you step into the centre, you'll know that we can make a difference.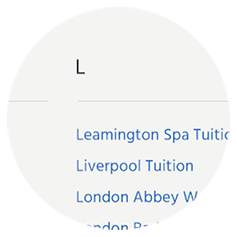 Having some difficulty? Switch to our list view
Explore Learning has tuition centres across the UK. This list will be updated on a regular basis as new Explore centres open. For further details of new openings, please email [email protected].
We believe delivering the best standard of education
shouldn't cost the earth.
That's why we offer our award-winning service at a price that's accessible for everyone.
Our membership is simple and great value. Childcare vouchers and the childcare element of Working Tax Credits could enable you to save on your monthly membership*, and we also offer a fantastic scholarship scheme which gives a 50% discount to parents receiving Income Support or Job Seekers Allowance. This means anyone can access our award-winning service, because delivering the best standard of education shouldn't cost the earth. Our members can also take advantage of our 'Refer a Friend' scheme, where they will save £50 per family who joins Explore Learning based upon their referral.
To find out our membership prices, find your nearest centre.
*excluding Cardiff, East Kilbride & Aberdeen.