10 years of Explore Learning and NRICH
October 30, 2017
NRICH and Explore Learning are celebrating 10 years of having worked together in partnership to create the National Young Mathematicians' Awards competition. Here, Fran Watson from NRICH, reflects on what it means to participants…

The competition
More schools and children than ever before are taking part in the National Young Mathematicians' Awards each year and enjoying the challenge of mathematical problem solving as a result.
I often think of things as diagrams to help me understand them. So when I was asked to describe the National Young Mathematicians' Awards, the picture that I 'saw' in my head was a Venn diagram like the one below.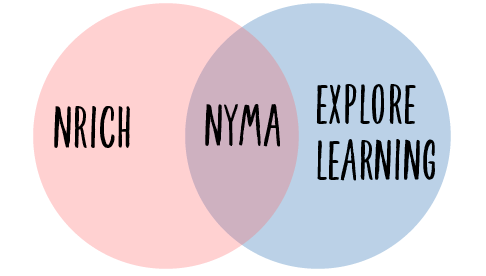 A Venn diagram represents the relationship between two groups. Here the two groups are NRICH (the red circle) and Explore Learning (the blue circle). The shared purple area is the National Young Mathematicians' Awards, which is a collaboration between these two organisations.
I thought about the fact that we experience things differently depending on our view point and wondered what people in each part of the diagram might think.   
Explore Learning – The blue circle.
I asked members of the Explore Learning team to tell me what their work meant to them, and these were some of their responses:
"We provide opportunities for individual and group learning that broaden knowledge and skills whilst developing confidence."
"We work with children to develop fearless learners who are excited to take on challenges."
"Our tutor teams bring learning to life for children."
"We believe that confidence, motivation and a passion for learning, are VITAL to becoming life-long learners."
"Anyone that joins Explore, joins a family. Parents are supported just as much as children."
NRICH – The red circle.
Next I tweeted a link to an online survey and invited teachers who use NRICH to tell us what the project means to them:
"A never-ending seam of mathematical gems!"
"A source of mathematical inspiration which has the potential to deepen students' understanding."
"NRICH means I am supported in the fabulousness of maths and am reminded to play with it."
"NRICH makes maths feel like maths should. Students get to enjoy the beautiful fulfilling challenges that a simple problem can provide."
"An indispensible resource for developing my teaching of mathematics.  My favourite aspects are the key questions and teaching notes for each of the problems."
Having done some more thinking, I realised that I had missed an important part off my first diagram! I decided that my picture should look more like this: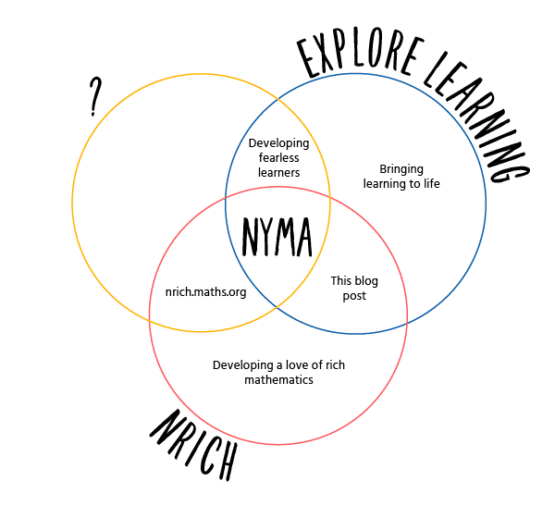 So if the blue circle represents Explore Learning and the red circle represents the NRICH project, what do you think the label should be for the yellow circle? And what else could you to add to the diagram?
If you know a budding mathematician, why not find out more about our National Young Mathematicians' Award? It's the only team maths competition for primary schools in the UK!
Discover more interesting posts from our blog
---
Explore Learning named second-best big employer in the UK
February 22, 2019
We're over the moon to have been named the second Best Big Company To Work For by The Sunday Times, for the second year in a row! Last night (20th February) Explore...
Read this post
Love learning this half term
April 10, 2017
Half term is a great chance to enjoy some family time together and have fun! We've got some tips for ways you can keep your child's brain active at the same time…...
Read this post