Author Josh Lacey's inspiration
April 23, 2018
Josh Lacey has written many children's books, including 'A Dog Called Grk', 'Island of Thieves', and his 'The Dragonsitter' stories have been described as "little masterpieces of comic storytelling." We had a chat with Josh to find out where his ideas come from…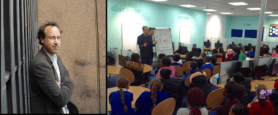 I often visit schools to talk about my books. And the other day I spent an hour talking to a group of very bright and engaged children in the Explore Learning centre in Sydenham. On that occasion, I was asked a question which I have been asked many times before.
"Where do you get your ideas?"
I'm always tempted to answer in the same way as that brilliant writer and artist, Dr Seuss, who responded to that particular question with these words:
"I get all my ideas in Switzerland near the Forka Pass. There is a little town called Gletch, and two thousand feet up above Gletch there is a smaller hamlet called Uber Gletch. I go there on the fourth of August every summer to get my cuckoo clock repaired. While the cuckoo is in the hospital, I wander around and talk to the people in the streets. They are very strange people, and I get my ideas from them."
I don't have Dr Seuss's wild imagination or his verve, so instead, I tell the truth: I have no idea where I get my ideas. They just pop into my head. I just have to try and grab them, and write them down, before they disappear.
But I also say something else: I say that my inspiration actually comes from Ruritania, Bombardy and Syldavia.
Anyone who wants to be a writer, I always explain, needs to be a reader first.
This year my first novel A Dog Called Grk has been re-issued with a brilliant new cover.
A Dog Called Grk was inspired by two dogs. I met one of them in Montenegro, and the other shared my life for several years.
But I was also inspired by the books that I loved as a child, particularly four novels set in real and imaginary Eastern European countries: The Silver Sword, The Wind on the Moon, The Prisoner of Zenda, and King Ottokar's Sceptre.
A Dog Called Grk is the story of an ordinary boy who is knocked out of his ordinary existence by the arrival of a lost dog. Determined to reunite the dog with its owners, he sneaks both of them aboard a plane to Stanislavia. There, he has to battle against the vile dictator, Colonel Zinfandel, who has taken over the country, then break two children out of prison and smuggle them back to London.
Stanislavia is not a real country: it's a fictional Eastern European country which I based on Montenegro, with a smattering of Ruritania, Bombardy and Syldavia – which are the countries in The Prisoner of Zenda, King Ottokar's Sceptre, and The Wind on the Moon.
If you want to be a writer, or improve your writing, I suggest you visit Ruritania, Bombardy or Syldavia – or one of the other fascinating countries that you will find between the pages of a book.
Travel to one of those countries, and you will come home full of ideas.
Go on. Buy yourself a ticket to Ruritania, Bombardy, Syldavia – or Stanislavia.
You won't regret it.
Does your child have an active imagination? If so, they might love writing a story all about a hero for our National Young Writers' Awards! It's free to enter and there are some exciting prizes up for grabs…
Discover more interesting posts from our blog
---
SMART goal setting template: New year, new goals
January 06, 2020
Encouraging your child to set a goal, no matter how small, can be a great way to help them focus on what they want to achieve this year. We asked some of our members what...
Read this post
Start the new term happy: Advice for a smooth transition back to school
August 13, 2018
How can you make sure your family gets back into the swing of school life without a bump? Martha Provan, a working mum, shares her tips on balancing family wellbeing with...
Read this post