Author Q&A: Julia Gray
March 14, 2018
We were excited to welcome Julia Gray, author of the young adult novel 'The Otherlife', to our Brixton centre to run a creative writing workshop and help launch our National Young Writers' Awards!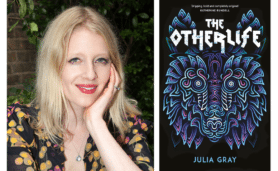 You spent some time with our members in Brixton. What was it like? What activities did you do with them?
It was such a delight to meet so many enthusiastic young writers and their lovely tuition team. We began with a discussion about what it means to be a hero in the modern age and what qualities heroes have. I read a short section from my book The Otherlife, which features a boy named Ben and his tutor, Jason, and we talked about why Jason is Ben's hero. Then we made up a list of features that we could use in a piece of writing to make it really exciting – specific detail, dialogue, 'wow' words, etc. – and the children wrote descriptions of their heroes, which many of them read aloud afterwards.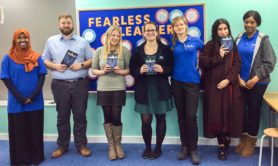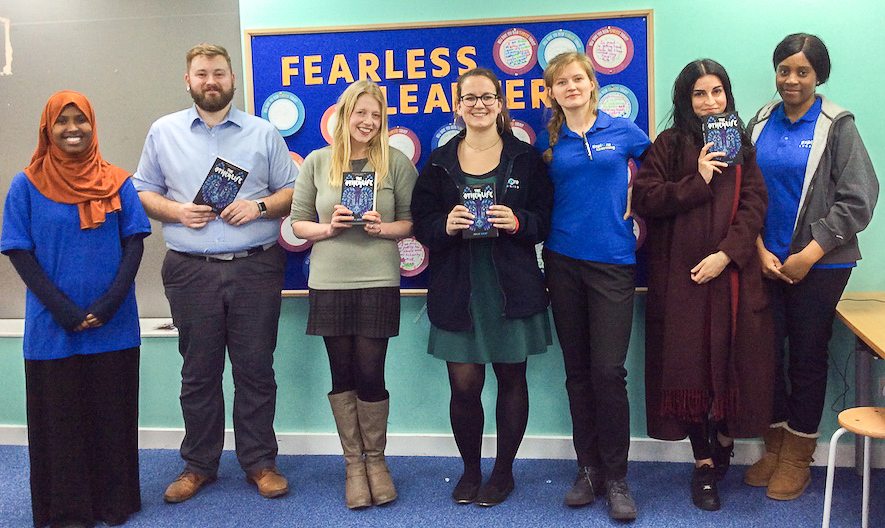 Why are you pleased to be named as an ambassador for the National Young Writers' Awards?
I'm delighted to be involved with anything that encourages young people to express themselves by writing.
What tips would you give to our young writers?
Be fearless. Be adventurous. Write about the things that thrill and inspire you. Don't worry about making mistakes – they are part of the process.
We are asking children to write stories about a hero, who was your hero when you were a child and why?
I discovered the crime novels of Agatha Christie when I was ten years old and this marked the beginning of an enduring obsession. I still read her books today.
Who is your hero now and why?
I have the same musical heroes now as I did when I was a teenager – Kate Bush, Ani Di Franco, Joni Mitchell, Tom Lehrer and Tom Waits. I consider anyone who exhibits the qualities of empathy, courage and resilience to be a hero and I'm inspired by the people around me on a daily basis – colleagues, friends, family members. My parents are definitely heroes.
When you were a child, what did you want to do when you were older?
I always wanted to write – although I love music too.
What advice would you give to children about pursuing their dream job?
It sounds like such a cliche, but anything really is possible. There will always be people who will tell you that you can't do something – ignore them; if you really want to do something, then you will.
How do you get your inspiration for your stories?
I am inspired by little things that take place in my day-to-day existence, and also by mythology (particularly Greek/Roman and Norse) – I like to compare the two and find where the similarities are.
Music seems to be a massive part of your life, how has it impacted your writing?
I've been writing songs since I was a teenager, and it doesn't take long to write a set of lyrics and a melody – perhaps a day or two. Writing novels is a far, far longer process and I found this very daunting at first. The editing processes are also very different – I have a total creative ownership over my music, whereas with books there are many stages of drafting to be done and the input of others to consider, but both are really satisfying overall.
What was your favourite children's book growing up?
Goodnight Mr Tom by Michelle Magorian, Anne of Green Gables by L. M. Montgomery (and the others in the series), Fire and Hemlock by Diana Wynne Jones, Little Women by Louisa May Alcott, The Hundred and One Dalmatians by Dodie Smith… and many more.
What stories do you love to read now?
Lately I've been reading books by Frances Hardinge, Philip Pullman, Stephen King, Gillian Flynn and Margaret Atwood.
What were you like at school? Did you have a favourite subject?
I was very quiet and reserved and loved languages most of all. I was terrible at Science.
If you know an aspiring young writer, why not tell them about our National Young Writers' Awards? David Walliams is our judge this year and will be visiting the winner's school to award the exciting prizes!
Discover more interesting posts from our blog
---
Explore Learning's Succeed in Secondary course
May 05, 2020
Our Succeed in Secondary course: making the most of the big leap. We all remember how we felt as we prepared to start Secondary school. Or before sitting an exam, or...
Read this post
Mythbusting the 11 Plus and entrance exams
April 04, 2018
For those who are navigating the grammar school process for the first time, it can be a complicated and, at times, confusing process. Katie Williams, our Curriculum...
Read this post