Back to school with confidence
September 11, 2018
Izzy went back to school feeling calm, confident and ready for a new adventure in Year 5! Izzy's mum, Jess, shares her experience of how Explore Learning helped with the transition…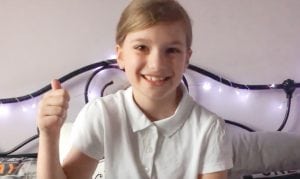 "Izzy is super excited to be heading back to school and heading into her new adventure of Year 5. In all her time at school, I have never seen her so calm and relaxed about a new school year beginning.
Izzy enjoyed attending her Explore sessions over the holidays as it kept her learning and gaining extra confidence in her skills ready for the next academic year.
It has helped massively as it's kept her confidence levels up in her maths and English skills. Six weeks off is such a long time to have a break in these areas, especially when Izzy used to lack confidence in her own abilities of these subjects. Attending Explore has kept her refreshed and her mind focused.
I would highly recommend Explore Learning to other parents. It's a great program and seeing the difference it has made to Izzy has just been fantastic. We were so worried about how anxious she would get and her lack of confidence in her ability to complete her school work. We had daily struggles with school getting her to complete even the simplest of homework or class activities. Now that's all gone, it's like we've gained our happy little girl back who now is so enthusiastic about her school life and filled to the brim with newly found confidence."
We're over the moon that Izzy has gone back to school with such confidence and we're sure she'll continue to be a fearless learner thanks to her new positive outlook on learning!
Jess and Izzy filmed the start of their journey with Explore Learning and shared their thoughts after coming to a free trial – hear what they had to say in this video.
See for yourself how Explore Learning can help your child be a fearless learner in school and beyond!
Discover more interesting posts from our blog
---
Parent Spotlight: Nikki Golestanian
July 31, 2018
Each month we hear from one of our amazing families about the things that matter most to them, from tales of incredible educational journeys to simply just a...
Read this post
NEW senior curriculum in our centres
June 10, 2019
A brand new senior curriculum is now available in our centres! It will provide even greater support for our secondary school members – find out more about it...
Read this post