Best Customer Service Award!
October 11, 2018
Explore Learning has been named the winner of the Best Customer Service Awards at The Surrey Business Awards!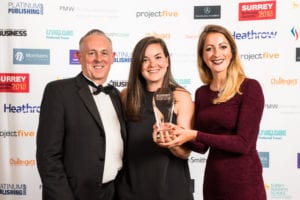 Hosted by Paul Sinha, comedian and star of ITV's hit show The Chase, the 2018 Awards were a truly countywide celebration of business excellence. Hundreds of applicants entered or were nominated, and the 46 finalists were drawn from 18 towns across Surrey.
The judging panel, chaired by Louise Punter, CEO of Surrey Chambers of Commerce, included representatives from Heathrow Airport, NatWest, Kingston Smith, Sandown Mercedes-Benz, Morrisons, Partridge Muir & Warren, Surrey Chambers Magazine, projectfive, Surrey Business School, Surrey Chambers of Commerce, CountyClean Group, Challengers and Gemini Print.
Laura Gordon, Head of Marketing, who accepted the award on Explore Learning's behalf said: "We are absolutely thrilled to be recognised for our excellent customer service.  This is integral to the success of our business and it's all down to the hard work of our tutors, centre managers and head office staff who strive to be as supportive as possible to parents, teachers and children alike.  It was a very competitive category and we are so pleased to be winners."
High five!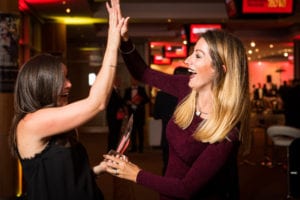 Want to know what makes us different? Come along to a free trial session to experience our centres in action and meet our amazing people!
Discover more interesting posts from our blog
---
Free English and maths winter workshops!
November 13, 2018
Looking for activities to keep children entertained over the Christmas holidays? Look no further – we're holding free English and maths workshops from 10.30...
Read this post
The stats behind back to school
August 22, 2018
How do parents and children feel about the exciting and challenging new school term? See if you agree with the stats behind back to school in our infographic… We...
Read this post