Book Week Scotland: Biggest readers in Scotland
November 19, 2018
It's Book Week Scotland! A celebration of the world of literature and the perfect time for Scotland to share and enjoy reading their favourites together!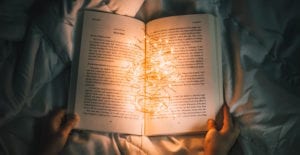 Even in this digital age, reading together remains a popular past time in Scotland. Nearly two thirds (61%) of parents we surveyed in the country read to their children every night! Impressive, especially when compared to the UK national average which shows only (56%) do the same.
Harry Potter and Paddington Bear are amongst the top read books by parents in Scotland and both characters also featured in their list of top ten fictional characters. Inspirationally for the young female readers amongst us, Wonderwoman came out top, followed by other female protagonists, Mary Poppins and Matilda!
Parents' top fictional heroes in Scotland:
Wonderwoman
Mary Poppins
Matilda
Harry Potter
Hermione Granger
Doctor Who
Paddington Bear
Batman
Superman
Frodo
Not only do adults read to their children for enjoyment, more than a third (36%) of parents in Scotland also read a book for their own pleasure every day, making them the most avid readers in the UK. This beats the national average which is only just over a quarter (27%). We're excited to see that their interest seems to have filtered through to the next generation, as 90% of youngsters in Scotland have even asked for a book as a present!
Charlotte Gater, Head of Curriculum at Explore Learning says: "It's great to see that parents in Scotland make reading a priority in their everyday lives and share their enjoyment of literature together as a family. Not only that but it is a good insight as to how their child's comprehension and expression is developing. Hopefully, the rest of the nation are inspired to follow their example and take up reading more for pleasure as a family!"
How will you be celebrating Book Week Scotland? Drop in to one of our five tuition centres in Scotland to share your love of reading!
Discover more interesting posts from our blog
---
Happy Roald Dahl Day! Birthday card designs
September 13, 2016
Today (13th September) would have been Roald Dahl's 100th birthday! In honour of the Roald Dahl Day celebrations, our members have been designing birthday cards for...
Read this post
NEW senior curriculum in our centres
June 10, 2019
A brand new senior curriculum is now available in our centres! It will provide even greater support for our secondary school members – find out more about it...
Read this post