Casting call for our new video series!
October 19, 2018
We are looking for three children to portray exciting roles for 'Teddy Talks', our new video series – find out how to get involved!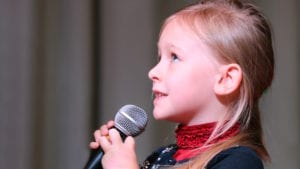 This new 'web explainer' series will be a similar format to Ted Talks, with three children each taking to the stage to give top tips to an audience of fellow children (but it will be helpful for parents too!).
Want to take part?
We are looking for engaging, charismatic children that can learn lines and speak confidently and naturally in front of a camera. If you're interested, please video your child reciting their name, age, location and then just one of the following options below directly to camera, and submit to robert.howells@4media-group.com by 24th October 2018 as a video audition:
Oldest child, playing age 12-14

"Grammar school 11 Plus tests normally take place in the first month of Year 6. This means that counties with grammar schools might have additional registration forms for us to complete as families during Year 5.
Luckily, most counties publish the results of the 11 Plus before the end of October, so we still have time to change our minds if we want!"
Middle child, playing age 10-11
"When I was approaching my SATs, our family promised to stick to some golden rules that would help me get through:
1. I always tried my best
2. We stayed positive and remembered that if I couldn't do something, I just couldn't do it yet
3. I talked about everything that worried me
4. We were always there to support each other"
Youngest child, playing age 6-7
"For my family, every moment is a chance to teach and learn. Walking with mum, a foggy window or a sandy beach can be used as a slate. Whether it's with a stick or pencil, I never worry about failing, because her encouragement keeps me practising."
Here is some inspiration!
Smartphone footage is fine – if you are having trouble attaching a larger video to the email, you can use wetransfer.com.
What happens next?
Please ensure that all applications are sent to robert.howells@4media-group.com before 6pm on 24th October. We will then invite a handful of applicants for a second round of auditions in person the following week.
The shoot will take place across the 17th and 18th of November 2018 in Surrey. At the moment, we're looking for families who can be available on both days but each child will only be required for half a day of filming.
If you have a budding performer in the family, we'd love for them to take part in this exciting project!
Discover more interesting posts from our blog
---
Fearless FOUR explained!
March 21, 2019
In 2017 we asked parents, children and staff what they liked about our rewards, and what they would change if they could. This enabled us to design, trial and deliver...
Read this post
Writing competition winner announced!
June 22, 2016
Congratulations to 11-year-old Gracie Harding from Westgate School in Winchester, who has been named the winner of this year's National Young Writers Awards!...
Read this post