Explore Learning celebrate the release of 'Ron's Gone Wrong'
September 30, 2021
Explore Learning celebrate the release of 'Ron's Gone Wrong'

Learning mode on!
Explore Learning celebrate the release of 'Ron's Gone Wrong'
Explore Learning is teaming up with The Walt Disney Company for the release of 'Ron's Gone Wrong', the new animated comedy adventure from 20th Century Studios and Locksmith Animation. In cinemas October 15.
'Ron's Gone Wrong' is the story of Barney, a lonely child, who is excited to meet his 'best friend out of a box', a walking, talking robot named Ron. Ron has not come out of the factory quite as intended and Barney is left with a malfunctioning companion. This is a story about the joys of friendship and the rewards that come from always learning.
Celebrating the joys of learning and friendships is something that comes naturally to us at Explore Learning so this felt like the perfect match. Our great tutors create a safe place where children can learn through making mistakes, tackling new challenges and having fun along the way.
Friendships, imperfections and the joy of learning
'Ron's Gone Wrong' resonates with us because we champion the importance of friendship and being accepted. We stand by the idea that nobody is perfect and how our imperfections can make us extra-special. We recognize that we are all in 'learning mode' and that, with the right person by your side, your learning journey can be a spectacular one.
The perfect learning partner
We talk about Explore tutors being a mixture of a coach and a cheerleader. We believe this provides the perfect combination of traits in a learning partner. On the one hand they have knowledge and experience. On the other, they have high energy and enthusiasm. They keep children going when the work gets tough, share strategies for overcoming challenges and celebrate the success when everything comes together.
A fearless approach to making mistakes
At Explore, we recognise that a mistake can result in the most powerful learning opportunities. It's really important that children feel not only comfortable making mistakes – this way they are more likely to take risks, grow their creative talents and develop resilience. They also experience pride – vital to feelings of self-worth. Pride comes from the change that occurs with the effort of getting it right.
Celebrating learning together
Learning is something we do throughout our lives in every role that we do. We believe it should be celebrated. If you feel the same then you'll feel at home with Explore Learning. Whether it's high fives, fist bumps, elbow bumps, jazz hands, thumbs ups or foot shakes we like to let children know when they've done a good job with their maths and English. It's not just about the grades but the attitude, stamina and positivity they display getting there.
Come and see what it's all about in one of our learning centres or meet us online to discuss more.
Learn something new every day!
'Ron's Gone Wrong', is the inspiration behind the latest edition of 'The Explorer' magazine.
Inside you will find amazing activities, competitions, exclusive interviews and more to keep everyone happy.
How to help your child build incredible friendships
Kimberley Walsh – Helping my children to learn friendship
Build your own 'Ron's Gone Wrong'-inspired B*BOT
Your handy parent's evening checklist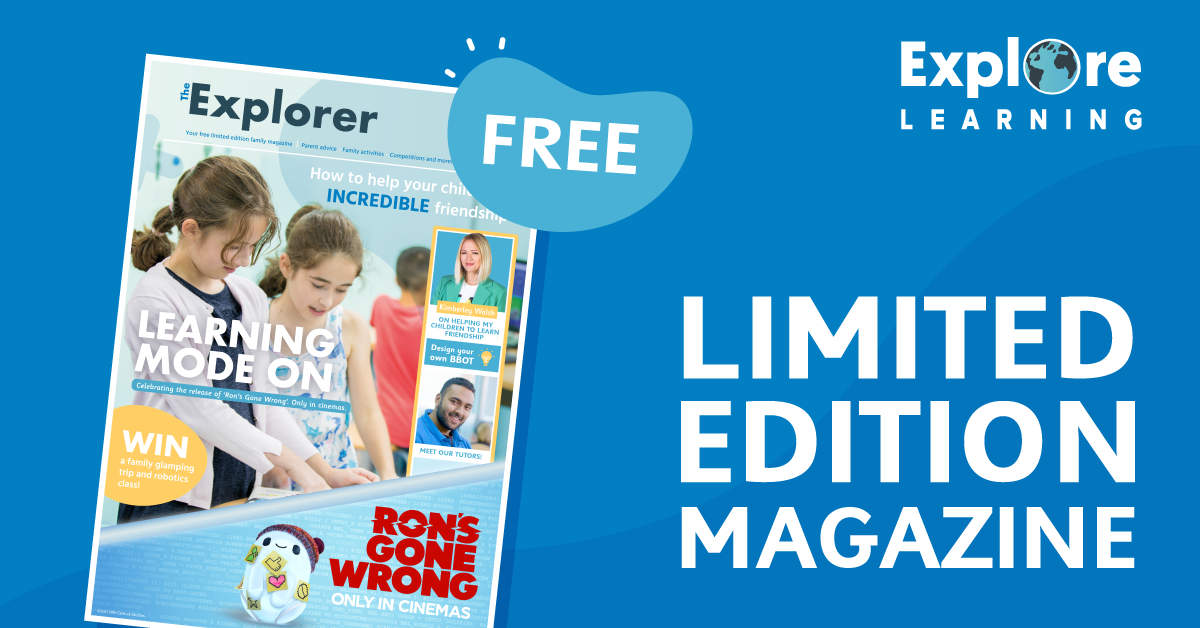 Plus you could win the ultimate family adventure inspired by 'Ron's Gone Wrong'.
One lucky family will win a unique experience that will allow them to connect with each other, challenge themselves and create extraordinary memories together.
Mixing city and countryside, technology and nature the unforgettable experience includes:
An exclusive robotics masterclass with a robotics expert.
Overnight glamping in the beautiful English countryside.
A private guided family bike ride.
2 nights luxury hotel accommodation in London.
To be in a chance to win simply head to Instagram and:
Follow @explorelearning_official.
Like the competition post
Tag your friends in the comments.
The competition will open on Monday 4th October – keep your eyes peeled on our Instagram account!
Don't miss 20th Century Studios and Locksmith Animation's 'Ron's Gone Wrong'. In cinemas October 15.
Discover more interesting posts from our blog
---
A very royal writing theme!
July 06, 2016
We've been analysing all our National Young Writers' Awards entries (over 10,000 of them!) to find out whether there are common themes across the stories...
Read this post
Competition winner experiences lifeguard dream!
June 26, 2018
Children were offered the chance to experience the job they'd love when they're older in a competition we ran with The Week Junior and KidZania London....
Read this post