Explore Learning named second-best big employer in the UK
February 22, 2019
We're over the moon to have been named the second Best Big Company To Work For by The Sunday Times, for the second year in a row!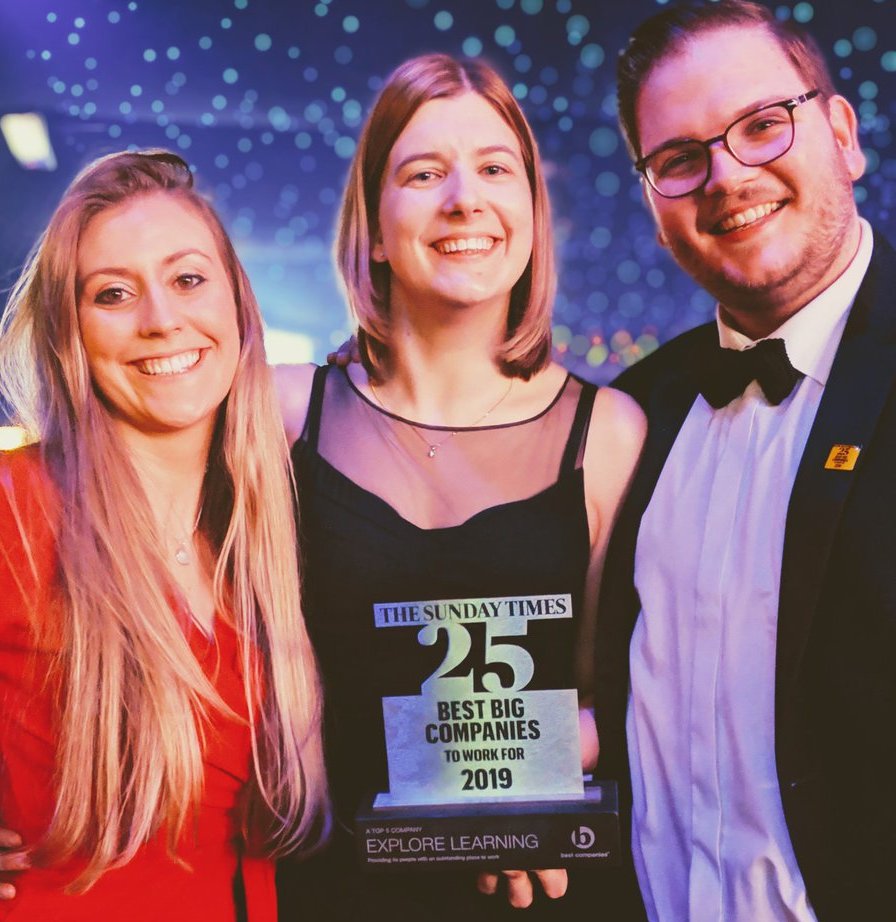 Last night (20th February) Explore Learning was announced as the second Best Big Company To Work For by The Sunday Times. We are thrilled with this latest award, after previously being recognised for six consecutive years as one of the best companies to work for in The Sunday Times 100 Best Mid Sized Companies to Work For List. But this year marks our second outing on the list of 25 Best Big Companies!
Employees praised Explore Learning for supporting their personal growth and wellbeing. With a massive 93% of staff agreeing that 'this job is good for my personal growth, and a further 91% agreeing 'I feel proud to work for this organisation', reflecting the personal investment of staff in Explore Learning and its mission. Furthermore, 40% of Explore Learning's senior managers are now female showing they are on course to achieve their aim of gender equality throughout their business. The provision of easy access to e-learning via the company intranet, podcasts and books were also commended.
Bill Mills CEO and Founder of Explore Learning says: "It's brilliant to be named the second-best company in the UK to work for, for the second year in a row. It once again highlights what the dedication and hard work of those working at Explore can achieve. Not only are we delivering outstanding service to thousands of children across the country, but we are also supporting our employees and ensuring they are happy and thriving at work. To us, making sure our staff are happy is a priority as they represent the backbone of the company, and I can honestly say every member of staff deserves credit for this award.''
Best Companies has been producing and publishing the 'Best Companies to Work For' lists since 2001 to measure and acknowledge excellence in workplace engagement. According to BC, each year hundreds of organisations from a wide range of industries use its employee survey to measure their employee engagement.
The responses from these surveys are collated and combined to produce an overall engagement score for each organisation. Only the organisations with the highest level of overall employee engagement qualify for the 25 Best Big Companies to Work For list.
Achieving this award for a second time continues a winning streak for Explore Learning, as last year it was also named the 20th Best Place to Work For by GlassDoor.
Not only do our staff love working for Explore Learning, but we've recently been 'Mumsnet Rated' for the service we offer our members! Find out what the Mumsnet testers had to say…
Discover more interesting posts from our blog
---
Explore Learning's 2020 achievements
January 01, 2021
2020 has come to an end! We can now look forward to a fresh start and say goodbye to what has been a tough last year for everyone. As we look ahead to 2021, it's...
Read this post
Explore Learning Mathematicians' Awards winners announced!
February 11, 2020
After weeks of hard work and tough mathematical training, teams from Nascot Wood Junior School and Denmark Road High School have been crowned the winners of the Explore...
Read this post