Braving the firewalk for charity!
October 24, 2017
A massive well done to Emma Stephenson, Chris Francis and Emma Laidler who proved they would walk over hot coals to raise money for charity… literally!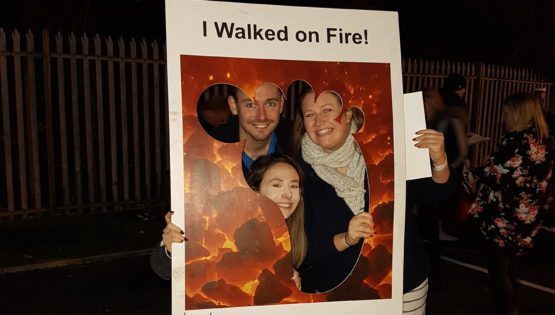 When the team heard about a local firewalk, they thought it sounded like a great idea to support our charity partner, Roald Dahl's Marvellous Children's Charity. Then they realised that it involves walking across burning coals, barefoot!
Regional Manager Emma, Centre Director at Tynemouth, Chris and Newcastle Centre Director Emma all braved the fiery stretch of coals and safely reached the other side unscathed – except for pretty hot feet!
It was all worth it as their impressive feat (no pun intended) raised over £200 for Roald Dahl's Marvellous Children's Charity! The charity supports seriously ill children and their families who have the biggest needs, namely those with a serious rare or undiagnosed condition, and often living in poverty.
There's still time to help the team recover! Any donation, small or big, would be hugely appreciated to help us support so many children across the country: www.justgiving.com/fundraising/chris-francis7
Check out some of the other ways our people have raised money for charity!
Discover more interesting posts from our blog
---
The importance of reception year
August 23, 2018
Research shows that children who are taught well in their first year of school go on to achieve better GCSE results in English and maths. Reception teacher Hayley Garland...
Read this post
Is it OK to be bad at maths?
December 19, 2016
Parents: We need your help to get the UK's children excited about learning maths – and striving to be good at it! In the recent PISA rankings that compare the...
Read this post