Braving the firewalk for charity!
October 24, 2017
A massive well done to Emma Stephenson, Chris Francis and Emma Laidler who proved they would walk over hot coals to raise money for charity… literally!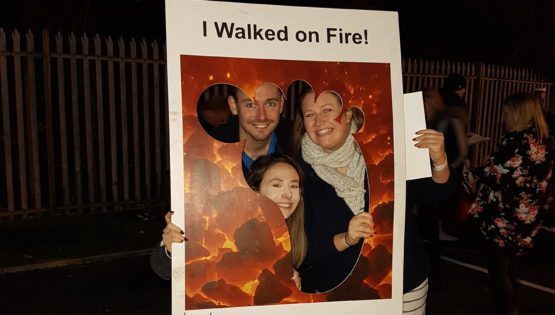 When the team heard about a local firewalk, they thought it sounded like a great idea to support our charity partner, Roald Dahl's Marvellous Children's Charity. Then they realised that it involves walking across burning coals, barefoot!
Regional Manager Emma, Centre Director at Tynemouth, Chris and Newcastle Centre Director Emma all braved the fiery stretch of coals and safely reached the other side unscathed – except for pretty hot feet!
It was all worth it as their impressive feat (no pun intended) raised over £200 for Roald Dahl's Marvellous Children's Charity! The charity supports seriously ill children and their families who have the biggest needs, namely those with a serious rare or undiagnosed condition, and often living in poverty.
There's still time to help the team recover! Any donation, small or big, would be hugely appreciated to help us support so many children across the country: www.justgiving.com/fundraising/chris-francis7
Check out some of the other ways our people have raised money for charity!
Discover more interesting posts from our blog
---
Bobby Seagull: 2020, an interesting year for maths enthusiasts!
January 06, 2020
Happy new year Explore members! 2020 – the start of a new decade! Or is it?! As a maths teacher, it should be no surprise that I like paying attention to detail. 2020...
Read this post
Our members are inspiring!
March 09, 2017
We challenged our members to create an inspirational postcard with a quote or saying they use to motivate themselves, family and friends – and we loved all...
Read this post