Writer of the Year 2019: Top 10 stories announced!
June 03, 2019
We're down to the top 10 authors in our writing competition! One of them will go on to be crowned the Explore Learning Writer of the Year 2019 – who will it be?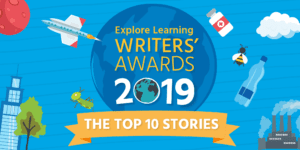 It was tough to choose just 10 of the incredible stories entered in the Explore Learning Writers' Awards to go through to the next round, but we're delighted to reveal the talented young authors here (in alphabetical order) – what an amazing achievement! Congratulations everyone!
Farrah Lucas, 9, Cambridgeshire
Gosia Sieluzycka, 5, from S E London
Harry Orme, 9, from Midlands
Holly Dunn, 10, from Oxfordshire
Isis Liddle, 13, Leicestershire
Isla Kitagawa, 10, Yorkshire
Jamie Hobson, 7, Hampshire
Kowhai Netana, 9, Suffolk
Louis Peckham, 10, S W London
Olivia Stephen, 6, Northumberland
You can read all their world-changing stories in a booklet to showcase all the amazing writing – download it here! Inspired? Check out our Creative Writing course to help you on your writing journey.
Alesha Dixon has the tricky task this year of selecting the Explore Learning Writer of the Year from all of these dazzling young authors, which will be announced the week of 17th June. Keep an eye on our website and social media to get the latest news!
Discover more interesting posts from our blog
---
Our Home Learning is Netmums Recommended!
January 07, 2021
'Explore at Home' is Netmums recommended, as 91% would recommend it to their family or friends! Getting back into a routine post the holidays can be hard...
Read this post
10 questions with David Walliams
March 16, 2018
What do David Walliams and our National Young Writers' Awards have in common? They are both celebrating 10 year anniversaries! David has been an influential...
Read this post