Creative writers start here! Meet Malachi
October 17, 2018
Malachi is 11 years old and a member of our Creative Writing course. We wanted to showcase his amazing work, so he has written a blog!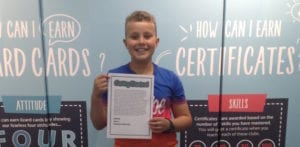 "I have been going to Creative Writing at Explore Learning Leicester for around six months now, the first week we learnt about real life and comic superheroes. Creative writing has improved my vocabulary and enhanced my story writing capabilities. The superhero topic was a wonderful topic to start on; real-life superheroes came in including a local fireman and a remarkable nurse. My Creative Writing tutor, Phoebe, always finds a way to make the sessions enjoyable.
Explore Learning always finds new ways to inspire me with real-life influences, to add more description and emotion in my work, so that the reader can engage more with the content and characters. In school, my writing has improved leaps and bounds since joining Creative Writing. Explore Learning has helped me on my learning journey from Year 3 to Year 6. When I joined Explore Learning I wanted to push myself to my full potential and achieve the best I can at school.
I love coming to Explore Learning because it can teach me new skills that I can use in different ways in the outside world. Every time I come into the centre I am excited to see if any of my friends are there. After my session, I love playing games in surf club with other people that come to the centre."
Our Creative Writing course is perfect for budding young authors like Malachi, or those who have writer's block! Find out more about our specialist courses to see if they could be right for your child.
Discover more interesting posts from our blog
---
How to Ignite Your Child's Spark
December 04, 2020
We all remember what we wanted to be when we grew up. Whether it was to become an astronaut or Red Riding Hood, we all had a dream once upon a time. What ignited your...
Read this post
Inspire us with your inspirational quotes!
February 03, 2017
What saying do you use to motivate yourself, family and friends? We're asking our members to share their inspirational quotes and create an inspirational...
Read this post