Donald Trump, Theresa May and robots
July 13, 2017
What do Donald Trump, Theresa May and robots have in common? They were all featured in the stories for our National Young Writers' Awards this year! Find out more in our infographic…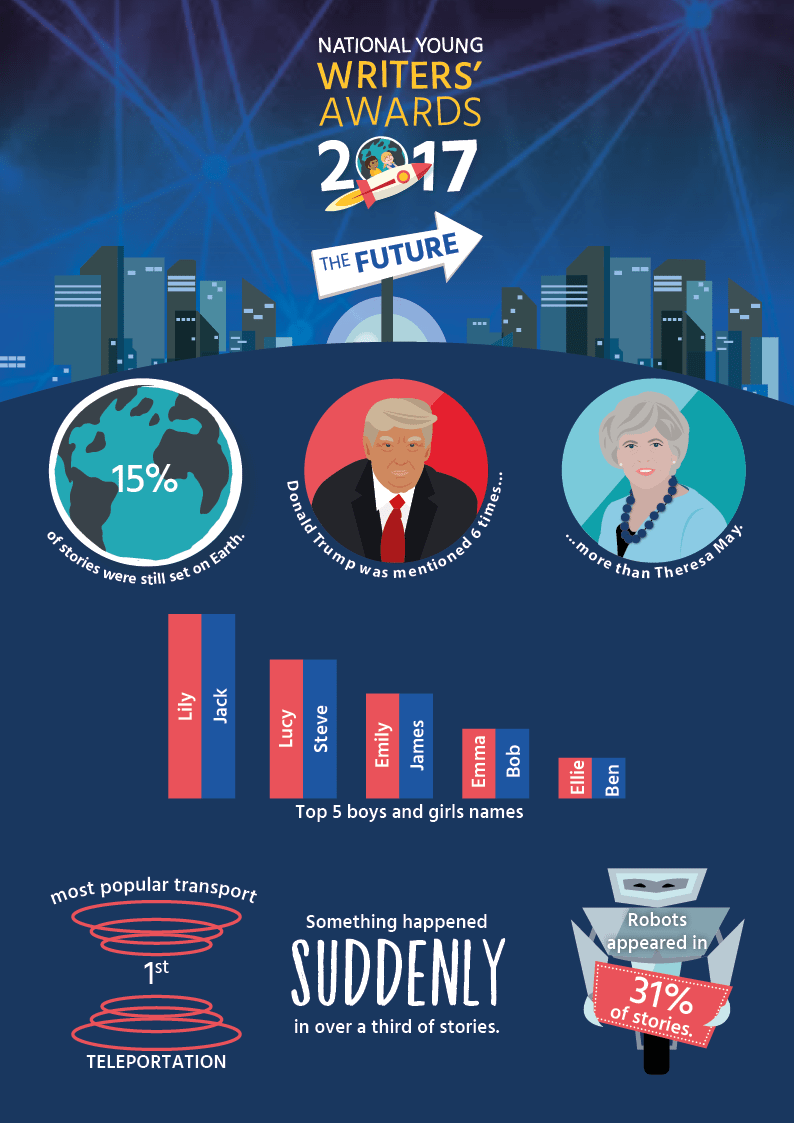 We analysed over 10,000 stories to get an insight into some of the popular ideas around the theme of 'the future'. Children were challenged to write 500 words and enter our National Young Writers' Awards for the chance to be crowned the Young Writer of the Year!
As you can see from our infographic, there were some pretty interesting results…
The current political climate was clearly at the front of children's minds in 2017 when considering the future, as Donald Trump and Theresa May both featured – with Donald Trump being mentioned six times more than Mrs May! When we asked children their feelings about the future in a recent survey, 86% of our members told us they were worried about Donald Trump becoming president – a theme that became clear when reading all the stories.
With all the endless possibilities the future might hold, 15% of all the settings were still Earth – perhaps showing children's optimism that we can save the environment!
Lily and Jack were the most popular names for characters, names that were also among the top choices in last year's competition! It was interesting to see that 'Steve' was also a popular name, which was likely to have been inspired by our guest judge this year – author and TV presenter Steve Backshall.
As you might expect, robots featured often in the futuristic tales – 31% of them in fact – and teleportation was the top way for their characters to travel.
We're passionate about encouraging children to love writing, so whether you know a reluctant writer or a budding young author, find out how we can help!
Discover more interesting posts from our blog
---
Announcing the top 10 stories!
June 05, 2017
We're excited to announce the top 10 finalists of our National Young Writers' Awards – one of them will go on to be crowned the National Young Writer...
Read this post
What's the Write Size for handwriting?
November 07, 2016
We've partnered with providers of fun and educational products that we can share with our members to try out as part of our road testing programme. The latest...
Read this post