Engaging English
March 14, 2018
You might hear the children groan when you suggest some educational activities outside of 
school, but there are plenty of ways you can engage them with learning without them 
realising!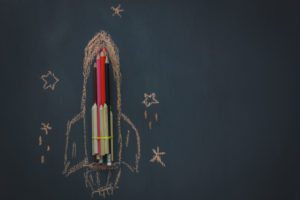 Encouraging creativity can give your child the space to unlock their imagination and discover the magic of words. Here are some fun and engaging ways you can bring English and literacy to life at home.
Make up a joke
Is your child a budding comedian? Take it in turns to make up a joke – what makes them funny? Are they a play on words or is it the imagery used that makes you chuckle? Here are a couple of examples to get you started:
"Long fairy tales have a tendancy to dragon"
"What did the buffalo say when his son went to university? 'Bison'"
Become a journalist for the day
Going to the park, the library or simply out to the shops? Before you head off, set your child the challenge of becoming a journalist to make the day more fun! They have the exciting responsibility of writing the front page news for tomorrow's paper, reporting on the activities of the day. Can they use descriptive language to bring the news to life? What headline would they choose to grab people's attention?
Watch a film
If your child is a reluctant reader, why not choose a book that has also been made into a film? Often as an adult this can spoil the surprise of the story, but it can help to engage a child in the story and make a book more accessible. You can also chat about the differences between the film and the book, and decide which version you prefer!
Un-jumble the story
This is a fun and quick activity to engage children with storytelling. Write a short story in 10 sentences or so and then cut it into strips so each sentence is separate from the next. Pop them in a jar (or a hat will do) and then challenge your child to piece the story back together! It's a great way to get them thinking about the structure of a story and checking that the sentences all make sense.
Discover more interesting posts from our blog
---
Let's encourage every child to reach their full potential
November 21, 2016
Bambi Gardiner is the founder of Oaka Books, which creates printed and digital revision guides for dyslexic students and visual learners. We spoke to her about helping...
Read this post
Explore Learning's 'Team Marvellous' Raise over £500 for Charity Partner in Reading Half Marathon
April 04, 2016
We're really proud of our Explore team who raised £585 for charity partner, Roald Dahl's Marvellous Children's Charity! Four team members, Charlotte Gater,...
Read this post