Free winter workshops!
November 13, 2018
Looking for activities to keep children entertained over the Christmas holidays? Look no further – we're holding free English and maths workshops from 10.30am on Saturday 29th December!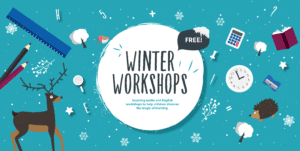 For many children the first term can be one of the most challenging.  New routines, more difficult work and increased homework means the winter term can be overwhelming, particularly as it is also the longest of the academic year.
We conducted independent research asking parents about their children's learning in winter.* More than half (52%) of the 1,000 parents surveyed said their child has less focus and energy in the dark winter days. Over four in ten (48%) said they find it harder to motivate their children in autumn and winter and more than a fifth (22%) said their children find the first term most challenging.
But the first term back doesn't have to be a daunting one. In fact, for many children, making the most of the first term back at school is key to making the academic year a success.
That's why we've focused our workshops on the areas children find most challenging. More than half (55%) of children in their first and second years of school struggle with blending and segmenting. Time is the second area of difficulty in maths for primary school children and comprehension is most challenging for 56% for children in their third year of studies.**
All of our maths and English tuition centres across the country are offering free workshops which will cover a range of topics including phonics, time telling, creative writing, and word problems to help children feel confident with these common areas of difficulty. All children in the local community are welcome, giving them the opportunity to visit the centre, make some friends and enjoy some fun interactive workshops!
Charlotte Gater, Head of Curriculum at Explore Learning says: "Parents will rack their brains for fun and affordable activities to do over the Christmas break, so we're pleased to offer families who've never been to see us before a place to bring their children where they know they are having fun while learning something new! Our aim is to encourage children to love English and maths and to help build their confidence in class – while parents get the reassurance that their children are paying a bit of attention to their studies over the school holidays."
If this sounds like the perfect activity for your child, find out more details about each workshop and reserve your place at your local Explore Learning centre today!
* MRS accredited research agency Atomik Research polled 1,000 parents of children between 4 -14
**Research based on data for 48,613 of Explore Learning members
Discover more interesting posts from our blog
---
Edinburgh member designs Explore Christmas card!
December 11, 2017
Our members took part in a festive competition to create Explore Learning's 2017 Christmas card, and we were inundated with fantastic entries! Explore...
Read this post
10 years of Explore Learning and NRICH
October 30, 2017
NRICH and Explore Learning are celebrating 10 years of having worked together in partnership to create the National Young Mathematicians' Awards competition. Here,...
Read this post