Fun run raises funds!
October 03, 2019
A team of incredible people from Explore Learning took part in the Queen Elizabeth Olympic Park run to raise funds for Roald Dahl's Marvellous Children's Charity!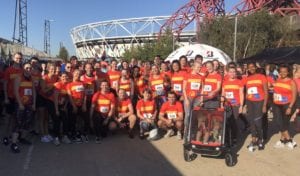 Staff from Explore Learning locations across the UK came together to complete either a 5k or 10k run in aid of Road Dahl's Marvellous Children's Charity, our corporate charity partner. We's so proud of the team for raising over £2,400 (and counting!) which will go towards supporting seriously ill children and their families.
The Charity funds Roald Dahl Specialist Children's Nurses in communities across the UK. They provide expert care and support to children with a serious rare or undiagnosed condition.
Helen Nelson, Corporate Partnerships Manager at Roald Dahl's Marvellous Children's Charity says: "I was honestly so proud when I arrived and saw all the runners in their charity t-shirts. Everyone was so supportive of each other giving a wave, smile or a whoop when another Explore Learning runner went past."
Bills Mills, Founder and CEO of Explore Learning says: "The weather was amazing and it put everyone in a great mood for the run! It was wonderful to see so many of the team pull together to help make lives better for others. There is still time to donate and help us reach our target for this fantastic charity, which you can do here."
Find out more about Roald Dahl's Marvellous Children's Charity and see how you can get involved!
Discover more interesting posts from our blog
---
Reading for pleasure
July 07, 2017
Reading is not just something that children should do in school, it needs to be an everyday part of our lives and something we choose to do at all ages! Here's...
Read this post
Looking for a part-time job while at university?
September 25, 2018
If you're considering getting a part-time job while you are at university, you're not alone! According to a survey by Endsleigh, almost eight out of ten...
Read this post