Grandmother and grandson working together
April 16, 2018
Joshua was finding it hard to keep up with his peers in class, particularly in literacy. Kerry Boyce, Joshua's grandmother, was supporting him as much as she could but was unfamiliar with the new curriculum.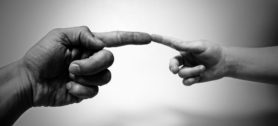 Kerry says: "Eighteen months ago I was really quite worried about my grandson's English. It's been such a long time since we were at school – it's alien to me how children are taught now as it's been over 30 years since I've been in that environment. I feel really out of the loop, they teach everything in a different way and grammar and punctuation has all changed."
The family went along to Explore Learning to support Joshua and reinforce what he was learning in the classroom.
"I didn't know what he was supposed to be achieving but the New Barnet centre explained to us where he was and gave us a proper explanation of where he should be so we understood. We have a much better understanding now and have gone along to sessions where we have learnt more about the current curriculum and what Joshua learns in the classroom."
The centre team keep an eye on how Joshua is progressing but also care about whether he is enjoying the content he studies at the centre. Kerry said "Ryan, one of the managers, is my hero – he will always get in touch if he thinks he needs to adjust Josh's curriculum to make it more interesting and enjoyable for him. The support he has received from Explore has meant that now Josh is level with his peer group. He feels it in himself – it impacted him before and he found it upsetting when he was behind and now he loves that he has caught up with everybody else."
Now, eighteen months later, Joshua has made good progress from visiting the centre for two sessions a week. Kerry is always kept up to date with his progress as she has regular reviews with the tutors every six weeks when they sit down and talk through how he's doing.
Kerry concludes: "I cannot praise the Explore Learning team highly enough, they are simply fantastic. They have created a fun environment that thoroughly engages children and really delivers results. Joshua has improved drastically since attending Explore which has done wonders for his confidence. The staff and tutors are just lovely – I would thoroughly recommend Explore Learning for any child."
We're all so proud of Joshua's hard work and perseverance – he really is a fearless learner! 
When it comes to supporting children's learning, we know how important it is for the whole family to be involved. Get in touch with your local Explore Learning centre to find out how we can work together!
Discover more interesting posts from our blog
---
Greg James shares his writing wisdom
October 09, 2020
Greg James, Explore Learning Writers' Awards 2020 judge, is here to share his pearls of writing wisdom. Not only is he a Radio DJ, but he's also known for...
Read this post
Does 'tailored' really mean tailored?
May 19, 2019
We have 37,000 members who attend our tuition centres, so how can we possibly meet all their needs? This is an excellent question which we answer in this blog post…...
Read this post