How to Ignite Your Child's Spark
December 04, 2020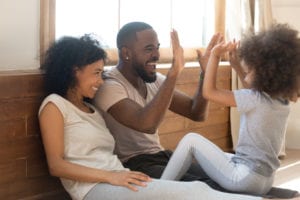 We all remember what we wanted to be when we grew up. Whether it was to become an astronaut or Red Riding Hood, we all had a dream once upon a time.
What ignited your spark?
Granted our dreams and plans evolve with age; but that burning passion we once possessed as children, that never give up and 'I can be whatever I want to be' drive is one of the most magical powers our children have. So, how can you support your child in igniting their spark and in harnessing that power?
How do you ignite your child's spark? Begin by thinking of a time you've seen them truly happy. What were they doing at that moment? For those of you who have gone on to conquer your aspirations and dreams, who was behind you championing you, supporting, guiding you and cheering you on from the sideline? 
A small amount of belief can lead to a lifetime of being fearless.
Encourage your child to explore being themselves to ignite their spark. We believe it's in seeking opportunities for your child and in the small moments, the bits in between the standard day-to-day humdrum. It's instilling self-belief in your child through every small bit of praise, in all high-five moments and in celebrating every small victory as if it's the biggest achievement in the world. 
2020 has been the year that most children spent more time at home.
Our children had the opportunity to explore and dream. Creativity flourished, with children discovering new skills and passions. Children are now perhaps more daring to dream and we think that is simply wonderful. 
We wanted to explore these dreams, so we asked children about what ignited their spark, exploring the evolving career aspirations and passions of over 1,000 girls and boys between the ages of five and fifteen.
We found that one in five children changed their mind about their dream job during lockdown – with doctor, artist and YouTuber now topping the list of preferred roles, and with many children discussing wanting to venture into care-focused roles*. 
*
Research was conducted by Opinium on behalf of Explore Learning. This was a poll of 1000 parents and their children aged 5-15 years. The research was conducted in September 2020.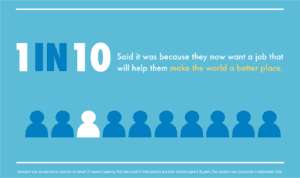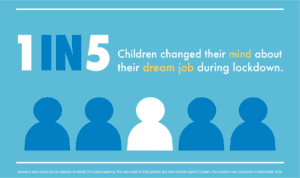 When asked why children had reconsidered what they wanted to be when they grew up, over one in ten said it was because they now want a job that will help them make the world a better place. Others said they got better during lockdown at an existing skill or that they had been inspired by someone who did that job in real life.
So, let's enjoy taking more than just one moment to discuss with our children what they want to be when they grow up.
Think about what inspires them. What makes their face light up with pure glee? No matter how big or small that thing is, be sure to encourage them to talk about it. To voice their opinions and interests passionately. Offer opportunities and make time to explore their passion. Research it together, tell them what you know about the topic already and give them a chance to discover more whenever you possibly can. Celebrate every new bit of knowledge they proudly tell you – even if it's not news to you! 
Champion your child to explore being themselves.
We've got a whole family of inspirational tutors who do exactly this. More than just maths and English tuition, Explore pioneers children's confidence and dreams; we're passionate about doing what we can to ignite your child's spark. We seek to motivate and cheerlead enthusiasm for every child, inspiring them to go after their goals with gusto. Because no dream is too big, right? We certainly don't think so! 
Encourage your child to discover their passion with our free, bespoke activities. We'll explore what makes them unique and how they can harness this power to contribute something meaningful to the world! 
Guaranteed to make them believe. 
Discover more interesting posts from our blog
---
Summer competition winner announced!
September 12, 2018
We asked our members to share the ways they were seizing the summer with a fun photo competition, and we have a winner! The summer holidays are a time for relaxation and...
Read this post
A teacher's guide to parents' evening
October 17, 2017
The first parents' evening of the new school year is upon us, and teachers are preparing to discuss children's progress over the last few weeks. Hayley...
Read this post