How to talk to your children about Coronavirus
March 20, 2020
We've collected together our best advice on how to talk to your children about Coronavirus (COVID-19). We hope this will help your child feel more informed and at ease about the events that are happening around us so that they can continue their fearless learning journeys.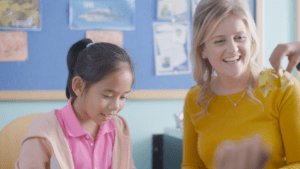 Assess what your child knows
Dr. Heard-Garris said that you should start the conversation by asking what your child has heard about the virus. They may have only heard about it through other children, or through limited news stories and articles. "If they've heard that people all over the world are dying, and the Grim Reaper is coming for us too, that's a very different conversation than if they've just heard it's like the flu", Dr. Heard-Garris said. Use open-ended questions. If they don't know about it, you can encourage good hygiene practice without introducing the details of the virus.
Ensure they feel listened to
All children will respond differently to the news. If your child is feeling scared or anxious, it's best to acknowledge those fears and show that you're taking them seriously. Show that you understand how they feel, even if it's different to how you feel. Try not to panic about the outbreak whilst talking to them – As children are likely to mirror our own feelings and responses, it can help to deal with our own anxieties before having the conversation.
However, if they do feel scared we need to acknowledge those feelings and take them seriously. Let them know that you're there to look after them. It's also helpful to relate to the feelings they're experiencing by discussing a time when you felt the same.
Grade your language
Naturally, children of different ages will understand the virus at varying levels of complexity. Talk at an age-appropriate level. Tailor your language for their age. E.g. if they don't understand how viruses spread, you can say things like "They love to travel" or "They jump from hand to hand, like when people shake hands or give high fives".
Teach them how they can help
Discuss the hygiene measures that can help protect themselves and others. For younger children, they may respond well to turning these into games. For example, they could sing their favourite song whilst washing their hands to ensure they do it for 20 seconds, or could help 'police' others in the house from touching their faces.  
Keep reminding them to; sing a song whilst washing their hands, wash their hands often (meal times, blowing nose, going to the toilet), use hand sanitizer, not touch their face (hands below shoulders game) and to keep distance between themselves and others (e.g. staying 2m away). Turn it into a game if that's what they enjoy!
Encourage routine & keep education going
It doesn't have to be the end of learning! We live in an amazing world where learning can happen almost anywhere at any time. Chat to your child about how they can carry on learning in a fun and engaging way, and continue to encourage them to explore their interests whilst they're at home. It's really important to try to keep a routine going, you can use our free downloadable daily planner here.
These are uncertain times but at Explore Learning, we are fully committed to supporting families to keep education going. For more information and links to parent videos, downloadable activity sheets and more, head to explorelearning.co.uk/keepeducationgoing
Discover more interesting posts from our blog
---
Is my child making progress with their tuition?
April 30, 2020
When tuition works well, you might notice a change in your child's engagement towards learning, a boost in their confidence, or an increased success rate in their...
Read this post
#NowICan - George's progress!
August 02, 2016
George told us that he wants to learn his times tables over the summer in our #NowICan video – find out how he has been getting on here! Update 2 Here are some...
Read this post