Make home schooling engaging: our 5 top tips
January 14, 2021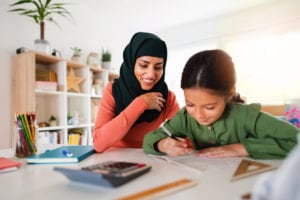 We understand the stresses remote learning can bring for parents.
Albeit getting more experienced from doing this for the second or third time around! On top of this is conjuring up a plan to make home schooling engaging – it certainly can be a lot to take on. 
Getting back into that 'no you can't stay up for another hour', early wake-up school routine is hard enough after the holidays, at the best of times. 
Throw in the disappointment of the announcement of school closures (again!). And voila, cue wrestling over desk space and computers once again.  
We're here to shed some light on top tips on making home schooling engaging. So grab those prematurely ripped up learning schedules from the bin and clear that dining room table as it has officially been promoted again to your daily used desk.
 It's time to discover how not every home learning day has to be a battle.
Don't forget you can find plenty of our free activities here also!
Explore Learning's Head of Curriculum, Charlotte Gater, shares her top tips to ensure that kids stay engaged and tuned in to their home learning: 
Take their workspace to another room
If you've been using the same area for their homework, or to do educational activities in, for a while, your children may positively embrace a change of scenery and therefore a change in mindset if you are in a position to set up their workspace somewhere else in the house. Even if it's only for a couple of hours a day, a change of scenery can really refresh their minds.
Start learning with a warm-up activity
If your children are feeling down about the prospect of learning at home again, away from their teacher and their school friends, they may find it difficult to focus on work. Introduce a warm-up activity/puzzle/brainteaser/game to help channel their focus before getting to the heart of their work. If you have more than one child, you could allow your children to take it in turns to run the warm-ups. This can give them a sense of responsibility. 
 Vary the different teaching techniques and activities
Your kids may require variety now more than ever in the home schooling activities to retain their attention and keep up motivation. It could help them to have a mixture of resource types to work with from websites, outdoor learning, reading, writing and listening activities incorporated into their education. Some things may be better taught in a kinaesthetic way. For example, weights and measures. Whilst others would benefit from visual learning e.g. flags of different countries. 
To improve the variety, it can be useful to look outside of your home for support. Some ideas include: finding plays that have been live-streamed, educational documentaries, walking in the garden/local park and examining animals, trees and flowers, or opt for an at-home one-to-one tuition service like Explore at Home. A new voice and approach can break up the learning process and give your child a fresh perspective. 
Balance core subjects with creative tasks and life lessons
While the core lessons like English and maths are integral to your children's education, it's important to remember the benefits of the creative arts too. We know an art lesson taking place on the kitchen table may fill you with dread. However, a simple activity involving pencils or pens may allow your children to release their creative energy and will, in turn, have a positive impact on the subjects that may involve more logical or lateral thinking. 
To avoid mess, you could use Lego or toys with which they can build something; at the end, the activity can be quickly put away. Allow your children to choose the creative activity so they feel they have a say in their learning.
Give your children more breaks and time for drinks/snacks
As the weeks go on, home schooling may become more difficult for children, so accept that your formal learning time may become shorter and their playtime/drink breaks may need to be longer and more frequent. Regular snack breaks will also keep their energy up. If you have the space, it can help to get active for five minutes with some star jumps or freestyle dance. Even if you end up with slightly less 'lesson time' overall as a result, the time your children do spend learning is likely to be better quality as they will be less restless.
In need of more home schooling ideas? Charlotte shares more engaging home learning resources with us in her other blog.
Keep their spark ignited, no matter what happens, with our award-winning maths and English tuition. 
Discover more interesting posts from our blog
---
Donald Trump, Theresa May and robots
July 13, 2017
What do Donald Trump, Theresa May and robots have in common? They were all featured in the stories for our National Young Writers' Awards this year! Find out more...
Read this post
Season's Tweetings card wins competition!
December 08, 2016
To get into the festive spirit, we asked our members to design a seasonal scene that would become Explore Learning's official Christmas card 2016! As you can see we had...
Read this post