Michelle Hicks: My dream job
May 18, 2017
We caught up with Chessington World of Adventures Resort to find out what it was like for Project Manager and Civil Engineer, Michelle Hicks, to work on The Gruffalo River Ride Adventure and create a ride that takes guests through the famous deep dark wood…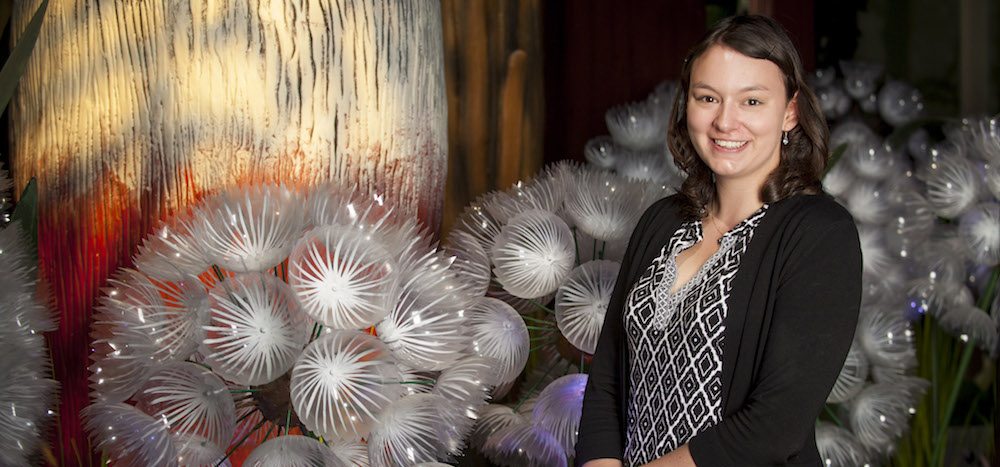 Civil Engineer, Michelle Hicks, started work on the much anticipated, world-first Gruffalo ride at Chessington World of Adventures Resort back in June 2016. It was a project that would not only juggle the works of engineers, architects,  contractors and creatives but also came with the pressure of bringing to life a bestselling children's story. "I had to plan the work to ensure that it was delivered on time and on budget and also created an attraction that was new and exciting," says Michelle on the mammoth task. "I had to produce something that reflected our creative team's vision. Sometimes that does mean being the voice of reason and finding a way to find a solution to their more 'out there' ideas."
However, despite the pressures and difficulties of working on such a big project with even bigger expectations, this is Michelle's dream job. "Growing up I absolutely loved theme parks, visiting Thorpe Park or Chessington was the highlight of my year." Michelle realised that she could turn her love of theme parks into a career when aged 14 her father took her on a trip to the University of Reading. "My Dad took me to a lecture on rollercoaster design, and that was a huge inspiration for me. I was always good at science and maths at school, so the fact I could mix my skills with my love of theme parks and turn that into a career was a big realisation."
Michelle went on to study Double Maths, Physics and Geography at A Level and after her first year started to consider engineering, going on to complete a work experience placement at an engineering firm. She then went on to study Civil Engineering at the University of Surrey. Michelle chose the course for its focus on big structures. "Civil Engineering is a lot of steel and concrete," says Michelle on the subject "and that's what holds rollercoasters up, so that's what I wanted to do."
After numerous placements and work experience opportunities taken up during study, Michelle went on to work for an engineering Consultancy as a Structural Engineer before joining Chessington World of Adventures Resort as a Project Manager.
The Gruffalo River Ride Adventure was one of Michelle's first projects at Chessington, where she was given the challenge of bringing Julia Donaldson's much-loved story to life in the form of a themed river ride. To create the deep dark wood and the characters within, Michelle and her team employed brand new technology, combining traditional 3D models with projection mapping, scent pods, and theatrical lighting. Michelle's favourite aspect of these technological features is the haze and smoke effects. "Seeing these work is the best part for me," says Michelle "they are the most complicated to work in conjunction with all the other aspects of the ride, but they bring the atmosphere of the wood to life and make it feel magical."
The absolute best part of the project for Michelle is the end result. "Getting to ride The Gruffalo River Ride Adventure and seeing other people enjoy it knowing what you've done delivers what you wanted it to and everyone had a great time doing it,  it's so rewarding," says Michelle. "Working somewhere like a Theme Park you can really see all the hard work you put into a project pay off through guest reaction – in another industry you wouldn't necessarily get to see that."
As an engineer Michelle works in quite a male-dominated industry, however, she has some top advice for anyone looking to get involved. "If you like seeing your ideas develop in reality, then engineering is a great way to achieve this regardless of gender – there are so many things you can do – whether office-based, site-based you can tailor your career to fit that or do both. Don't let the lack of females put you off – there's a great support in the industry and there's absolutely no reason that young women can't excel in engineering."
We encourage all children to become fearless – at home, in the classroom and beyond! If Michelle's story of pursuing her dream job has inspired your child, find out how we can help them reach for the sky.
Discover more interesting posts from our blog
---
Helping your child to read: Ways to engage!
March 16, 2021
Create a reading culture that inspires and changes their mindset from seeing reading as a chore. Looking for tips for parents to help with reading at home? Discover how...
Read this post
Discover More Festival with Explore Learning
July 31, 2020
Looking for something to ignite imagination and inspire curiosity in your child this summer? We've got you covered! Introducing the Discover More Festival with Explore...
Read this post