Parent Spotlight: Nikki Golestanian
July 31, 2018
Each month we hear from one of our amazing families about the things that matter most to them, from tales of incredible educational journeys to simply just a 'proud as punch' moment! This month, Nikki tells us about her two children and their Explore journeys so far…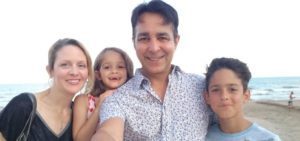 "Both of my children have been Explore Learning members for over a year now. It's been really important to keep their attendance going consistently over that time. Not only has this helped them stay focused during the school holidays, it has also helped when their reason for attending tuition has changed over the course of the year. Receiving English and maths tuition simultaneously and having their progress tracked continuously, has really highlighted how our journey with Explore is changing and yet is just as relevant and necessary as the day we joined.   
My daughter started in year two with concerns over her English. She's really improved in this area and now, in year 3, there is a greater need for her to focus on her maths. My son joined to get help with his SATs in year 6 and this was a fantastic boost for him. However, at the start of year 7, we struggled initially to help him understand the purpose of still attending regular sessions. By letting the centre staff know about his resistance, we were able to collectively decide upon some new approaches and targeted goals. Fast forward a year and he is happily attending and can see how the SAM Learning program has allowed him to select challenging topics for recap each week. Further to this, it's helped his confidence in class. In fact, in a recent meeting with the school SENCO, he was told how far ahead he'd managed to push himself compared to the national average, despite his dyslexia. This is a huge achievement and I'm so glad he is continuing his Explore Learning journey!
We look forward to chatting about your Explore journey at your next parents meeting!
Discover more interesting posts from our blog
---
Why writing still matters
June 01, 2016
Even in our digital age, being able to write by hand is still as important as ever. Explore Learning's Head of Curriculum, Carey Ann Dodah, explains why. Writing is a...
Read this post
Let's encourage every child to reach their full potential
November 21, 2016
Bambi Gardiner is the founder of Oaka Books, which creates printed and digital revision guides for dyslexic students and visual learners. We spoke to her about helping...
Read this post