Positive perseverance this autumn
October 20, 2018
The first term of school is often the longest (sometimes 7 weeks rather than 6), and children are faced with several new challenges. Here's how to keep the positivity levels up…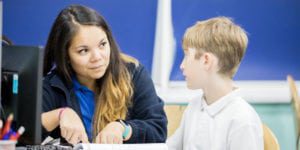 Many families report feeling extra tired as the nights grow longer – and no wonder! Children are expected to work at a higher level than the year before, all while settling in with a new teacher, and possibly a higher homework burden. Add this to end of term performances and assemblies which require extra rehearsals, it's no surprise children and parents can feel exhausted by dealing with all of this rolled into one!
So what does this mean for their learning?
The families who have the most success as they head towards December and the New Year are the ones who realise that this is an opportunity. The ability to persevere when times are tougher is an absolutely essential component of being a successful and fearless learner – so the first term is the perfect opportunity to make your child feel proud of showing their grit. Here are some top tips for anyone wanting to get the most out of it.
Make it relevant
Children will often feel more engaged it they can apply their learning to an activity, such as baking! Have a look at a recipe and work out the measures of each ingredient needed. The end product of delicious cakes will motivate them to do their sums!
You can also help your child practise their comprehension skills and challenge their imaginations by discussing alternative endings to their favourite book or film, the motives of main characters or why a particular storyline was exciting or fun.
Find ways to make their learning fun
At Explore Learning, we run holiday workshops throughout the winter break, meaning that children can get together with others and enjoy something a little different to their usual sessions. Working collaboratively is often more enjoyable than working alone, and sometimes trying something new can be refreshing. Contact your centre for their newsletter and workshop timetable.
Remind them of the long game goals, and praise them for continuing to work hard even when it's tricky.
Talk about what they were proud of achieving last academic year, and where they want to be in 2019. Did they reach this by giving up? Will they do their best if they only start trying after the holidays? There are plenty of fables around which you can read together that send this message, as well as children's books like these. When they have really tried their best, make sure you tell them how proud of them you are for doing just that.
Your Explore Learning centre team are on hand with practical help and advice to keep children engaged with their learning all year round! If you've got any questions, why not give us a call?
Discover more interesting posts from our blog
---
10 thoughts children have about going back to school
August 25, 2016
Chatting to the children at Explore Learning, we've had some mixed reviews about how they feel about returning to their new school year – but for them all, back...
Read this post
Meet the National Young Mathematicians of 2017!
December 18, 2017
After weeks of competition involving over 700 hundred schools across the UK, children from Ladbrooke Junior Mixed and Infant School from Potters Bar have been crowned the...
Read this post