Start the new term happy!
August 13, 2018
How can you make sure your family gets back in to the swing of school life without a bump? Martha Provan, a working mum, shares her tips on balancing family wellbeing with back to school pressures…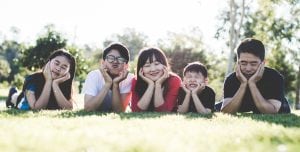 September is a month of fresh starts, best intentions and lots of exciting new beginnings. For some, these new routines can be a welcome change and for others a little overwhelming, and not just for the children! Juggling new classes and clubs, school days and homework alongside usual busy family life can be quite the challenge. Here are our four top tips to ensure a smooth start to the new academic year for the whole family …
Be sure you know what is important to you!
September is a fantastic time to take a moment to reflect on your own values about education as a parent. This can help you to feel confident in how you can support your child this academic year and to help you understand how and what you will prioritise
Plan September as a family
No matter what age, the more you involve your child in the plans, the more engaged they'll be. September can be a shock to the system for the whole family so some careful planning to help everyone get back in to the swing of things can be really useful.
To help ease you and your child back in to the new routine, we really encourage our members to choose their Explore days in advance. Whether this is decided at the start of each week or at the start of the month, it will support you in making sure regular attendance is possible alongside any new clubs. To maximise progress we recommend at least six sessions a month, but if you find this a little tough in September, don't panic! Try to keep it regular to get back in to the swing of it all, and remember you can catch up any missed sessions next month!
The hard work and routine of September can come around quickly for all involved after a long hot summer! Be sure to plan in some free days if possible for impromptu after school park trips etc to make the most of the last of the summer sun.
If you'd like any support or advice to help you have a smooth transition back to school, get in touch with your centre team today!
Discover more interesting posts from our blog
---
Author Q&A: Julia Gray
March 14, 2018
We were excited to welcome Julia Gray, author of the young adult novel 'The Otherlife', to our Brixton centre to run a creative writing workshop and help...
Read this post
Talented member is the star of a new TV show!
February 26, 2018
10-year-old Sophie Ryder is not only a member at our East Kilbride centre, she's also the star of a new TV show Gudrun: The Viking Princess on CBeebies! We chatted...
Read this post