The stats behind back to school
August 22, 2018
How do parents and children feel about the exciting and challenging new school term? See if you agree with the stats behind back to school in our infographic…
We spoke with over 1,000 parents in the UK to find out what they were feeling about the return to school, and here's what they told us: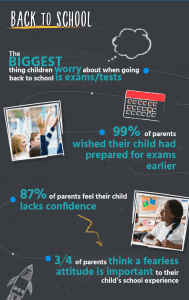 Many families are excited about getting back into the school routine, seeing friends and learning new concepts. However, back to school can come with a few worries; parents told us that the biggest of these is taking exams or tests. So much of what we do at Explore Learning is helping children to feel confident and prepared for new challenges and pressures, so we weren't surprised to see that this was at the front of their minds this September.
When it comes to preparing for a big test, 99% of parents said that on reflection, they would have liked their child to have started preparing earlier. With many children facing the 11 Plus exams and the SATs exams in the next two years, September is a fantastic time to make a start on preparing for your child's next steps.
Confidence is the key! 87% of parents feel that their child lacks confidence in school situations, such as in the classroom, tackling homework or socialising. Yet three-quarters of the same parents said that they think a fearless attitude is important to their child's school experience.
A fearless learner is someone who is proud to read their story in front of their class because they know that what they've written is wonderful. Someone who is brave and excited to make friends at a new school, because they're confident to introduce themselves. Someone who's not afraid to try new things, learning from their mistakes to blossom into an independent thinker.
Find out how your child can become a fearless learner this year!
Discover more interesting posts from our blog
---
How to get the most out of online tutoring?
July 02, 2021
The COVID-19 pandemic has seen many students turning to the online tutoring industry to fulfil their academic needs. The emergence of interactive technology has widened...
Read this post
A teacher's guide to parents' evening: questions & tips
October 17, 2017
The first parents' evening of the new school year is upon us, and primary school teachers are preparing to discuss your child's progress over the last few...
Read this post